What is Virtual Staging?
The market in 2022 was so hot that Realtor's didn't have to market their listings and home sellers didn't need to do much preparation. But now that the market has slowed, attention is back on prepping homes prior to going on the market.
With today's technology and online-focused marketing, home sellers have an option to avoid moving around furniture and instead "virtually" stage their home.
What is the best method for presenting your home?
Virtual or traditional staging!
If you are preparing your property for sale, one of the biggest considerations for presentation may be the option to stage the home. Why stage a home? The purpose of staging is to provide a picture-perfect layout to demonstrate the ideal set up for the floor plan and showcase all the wonderful features of your home. Staging can involve using the existing furniture and decor, bringing in new or different items, or fully filling a vacant property.  Staging can also be as simple as decluttering and minimizing a busy family home, so it's not just about setting up furniture.
Using Technology to Sell Your Home
In the last decade or so we have seen a big change in the marketing strategy for selling homes. With the convenience of the internet, home buyers now browse properties online before making the commitment to tour in person. The online presentation is a huge priority to make a stunning first impression! 
The option to do VIRTUAL STAGING is a newer tool used more increasingly as buyers expect a digital option to tour homes. Other tools like this include 3D floor plans, walk through videos, and even agent hosted video chat tours!
Virtual staging involves superimposing images over the photos of property to demonstrate the potential use of space for home buyers. It can include everything from the placement of major furniture pieces – bedroom sets, living room couch, a dining table – down to the details of art, filled bookshelves and even a flaming fireplace.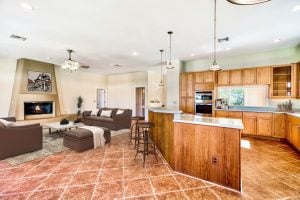 However, it is important that your Realtor includes staged and un-staged photos in the listing and discloses the virtually staged photos. For example, in this virtually staged photo you will see a flame in the fireplace. If the fireplace doesn't work and your Realtor does not state that the photo is virtually staged, then the image is misleading. It's important to disclose virtual staging in the listing description on the MLS and all real estate sites.
So what are the benefits to virtual staging? 
The cost is a fraction of what traditional staging can add up to, so that is one major benefit of this option. It can also be a good choice for homes that are more difficult to bring furniture in and out of – like a top floor condo – or simply if the seller is remote and does not want to deal with additional contractors or liabilities during the listing process. 
Cons to Virtual Staging
But virtual staging is not a flawless process, and you should be aware of some of the challenges going down this route. 
First, the quality of the imposed items are very important. If the furniture is not properly scaled, or is blatantly fake it can be a real turn off for anyone viewing the photos. As I mentioned before you should not be misleading. Be careful not to use virtual staging to obscure things about the property or give home buyers ideas of what the home is not.  If you hide a damaged wall or stage an outdoor living space that simply does not exist, home buyers will find out when they eventually tour in person and will likely be disappointed…if not outright mad!
Of course. The other method you can consider is traditional "real life" staging. 
Traditional Home Staging
"Real" staging offers the benefit of HGTV-worthy photos and videos for your marketing. Buyers who tour in person will be just as impressed as they were when they first saw the home online. Home sellers may use most of their own furniture and decorative pieces, and either bring in a few bits of other furniture or artwork, or even just take away some to make the home look less cluttered and more neutral.  Of course, if a physical home stager strategically placed furniture over water leaks, it would become deceptive and unethical.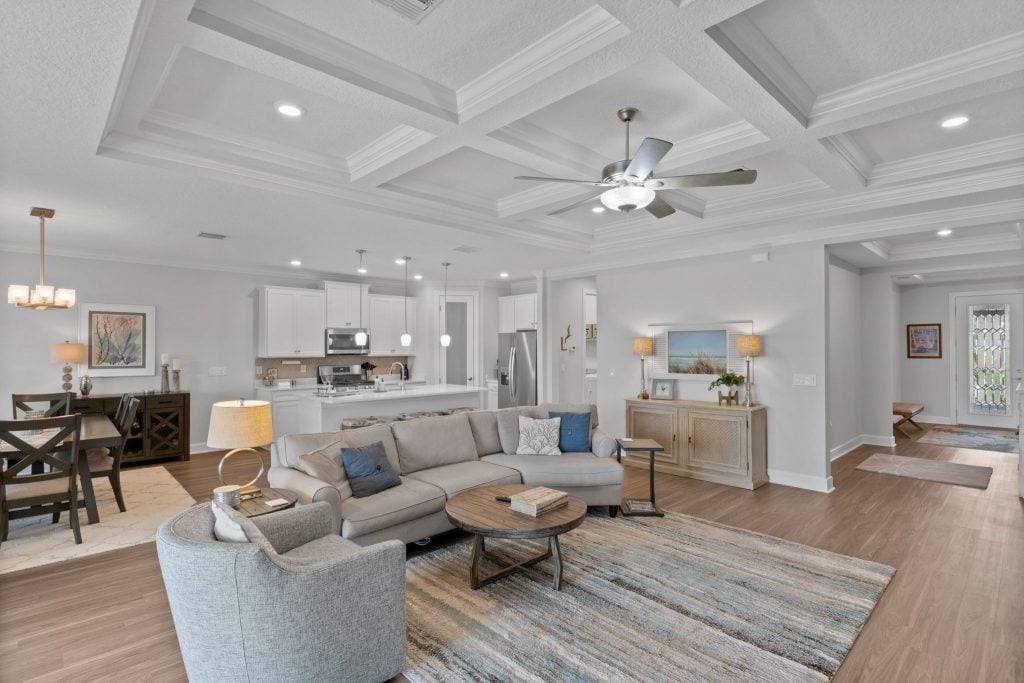 Hiring a staging company or designer to assist you with arranging existing items will definitely cost more money then virtual staging. A design consultation can be a few hundred dollars as a one-time fee, where virtual staging is about $30 a photo. Renting pieces of furniture and decor can add up to a few hundred per room, per month. For many, this expenditure seems overboard, but in some market areas and certain styles of homes, the physical staging could be what best presents the property and nets the seller the highest contract price.
So – Digital staging can be cheaper and more efficient, but risks looking silly or disappointing buyers. Real staging can cost more, but might be the best option to showcase your unique home!
The big question is Virtual Staging as Effective as Real Staging?
Yes! Statistics show that both virtual and traditional home staging can successfully market a property and have proven to effectively sell homes for more money.
Both types of home staging are designed to make a home as appealing as possible and not to deceive prospective buyers or hide existing problems.
When you are selling your home, prospective buyers like to have the visual of what the home could be and both of these options do that.