Florida Kitchen Ideas That Will Transform Your Home
Kitchens are the epicenter of every home, where family and friends gather 'round to converse and find comfort over food and beverages.
Kitchens have the most frequency of use and are highly functional in design.
They are the most coveted space for homeowners and when designed beautifully and well, have the highest return on investment.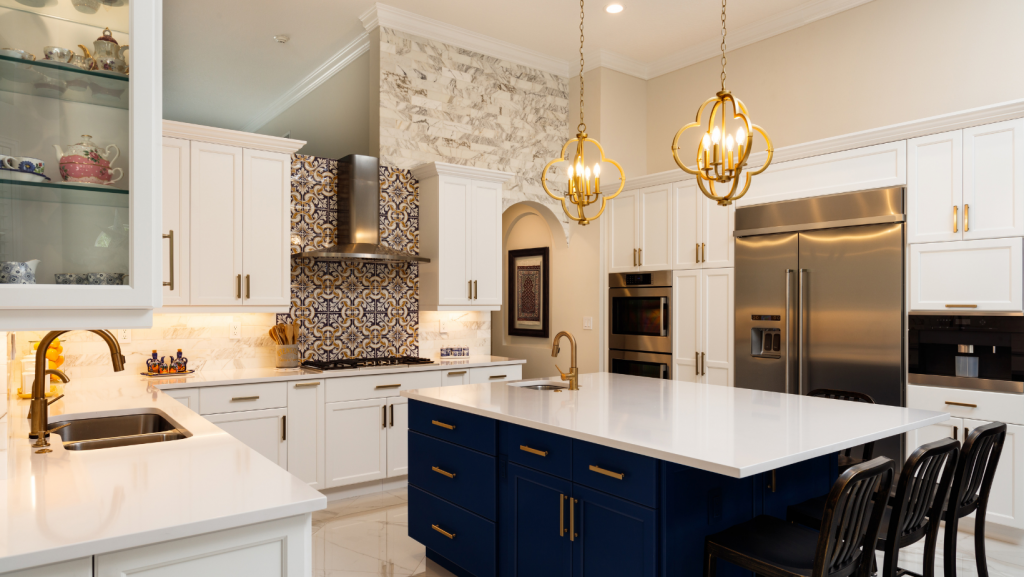 We're sharing the latest trends and the most sought-after design features in kitchens.
3 looks that are trending now:
Firstly, Pendant lighting over kitchen islands. Pendant lights have been popular for years. To give your kitchen island a facelift add large hanging basket-weave pendants. The natural woven lights give the home a relaxed, breezy, and cozy feel.
Secondly, Wall to wall and counter-to-ceiling kitchen cabinets. The more time spent at home has homeowners realize that they want more space. More space to live in and more space to store their goods. Homeowners are expanding their cabinet space above and next to existing cabinets. They're forgoing open shelving and replacing it with closed-door cabinets.
Lastly, The all-white kitchen is slowly being replaced with high-contrast colors and materials. You'll now see both dark and light materials throughout the kitchen breaking up the monochromatic scheme. Darker cabinets paired with lighter counters or darker counter with lighter cabinets is now trending. You'll also see glossy and shinier finishes giving the kitchen a more modern look.
Bottom Line
Kitchens can be on trend but don't over do it. Use pops of color when possible. For example, you can still use greens, but because a kitchen renovation costs a lot of money and is meant to last 10 to 15 years, trends shouldn't be so extravagant that you feel the need to change it every year.