Bringing her love for health, fitness, and dogs together, meet Michelle Trainor of K9 Fit Club St. Augustine. I met Michelle on a chilly Saturday morning in Vilano to watch one of her fitness classes. As I sat there, I couldn't help but smile and wish I had a dog with me so I could join in. Michelle took a little time after class to tell me more about the K9 Fit Club and the benefits it gives you and your dog.
What inspired you to start K9 Fit Club St. Augustine?
I was finishing up my masters degree in health and wellness coaching and I discovered that something was missing. I really love helping people, but thought if only there was a way I could help dogs too. I then discovered K9 Fit Club and knew immediately that it was for me and signed on that day.
Because I'm a nurse and health coach, I am very passionate about combating the obesity epidemic. One in three adults is overweight or obese and the obesity rate for canines has reached nearly 56%. That is a reflection of our sedentary lifestyles and dietary habits, and it causes dogs the same problems it causes people. They are getting diabetes, kidney disease, and cancer. We can increase our dog's lifespan and quality of life through exercise.
I became a nurse because I wanted to help people, but I found that giving people more medication isn't the answer. I wanted to figure out a way to engage people and dogs, to get them out, to have fun and maybe, as a result, lose weight and change to healthier habits. K9 Fit Club aims to improve health at both ends of the leash.
Why did you feel something was missing and wanted to include dogs?
I think because people love their dogs and a lot of times when it comes to health and wellness, people may not do it for themselves, but they are likely to do it for their dogs.  We are hoping to target people that might not come work out on their own. They will bring their dog and as a result will get exercise, have fun, and bond, so it benefits both the person and dog.
I can count on one hand how many group fitness classes I've been to. I know they can be intimidating, but when you have your dog with you, it changes the dynamic of the whole experience.
When did your love for dogs begin?
It all started 10 years ago when I met my husband and his husky, Mishka. She passed away a year ago. She was my heart dog, my spirit animal. After that, my husband and I started fostering and rescuing huskies. We were previously very involved with our humane societies in NH. We sponsored dog transports, 5k's, and other activities to raise money for the shelters. Everything involving dogs became very important to me, specifically outdoor activities.
Tell me about the Husky breed and why you continue to choose that breed?
My husband used to be a paramedic and he found an older husky tied to a driveway on one of his calls and he ended up rescuing that dog. That was Niko, who I never actually met, but since then we've had Mishka, and now Sascha and Kokonut.
Huskies are great breed, but they are a tough breed and they need a very special owner who is patient and willing to put in the work. This can be hard which is why so many get abandoned. We understand huskies so we work to foster, rehab and get them adopted. Working with the Siberian Husky Rescue of FL is how we ended up with our sweet little Kokonut.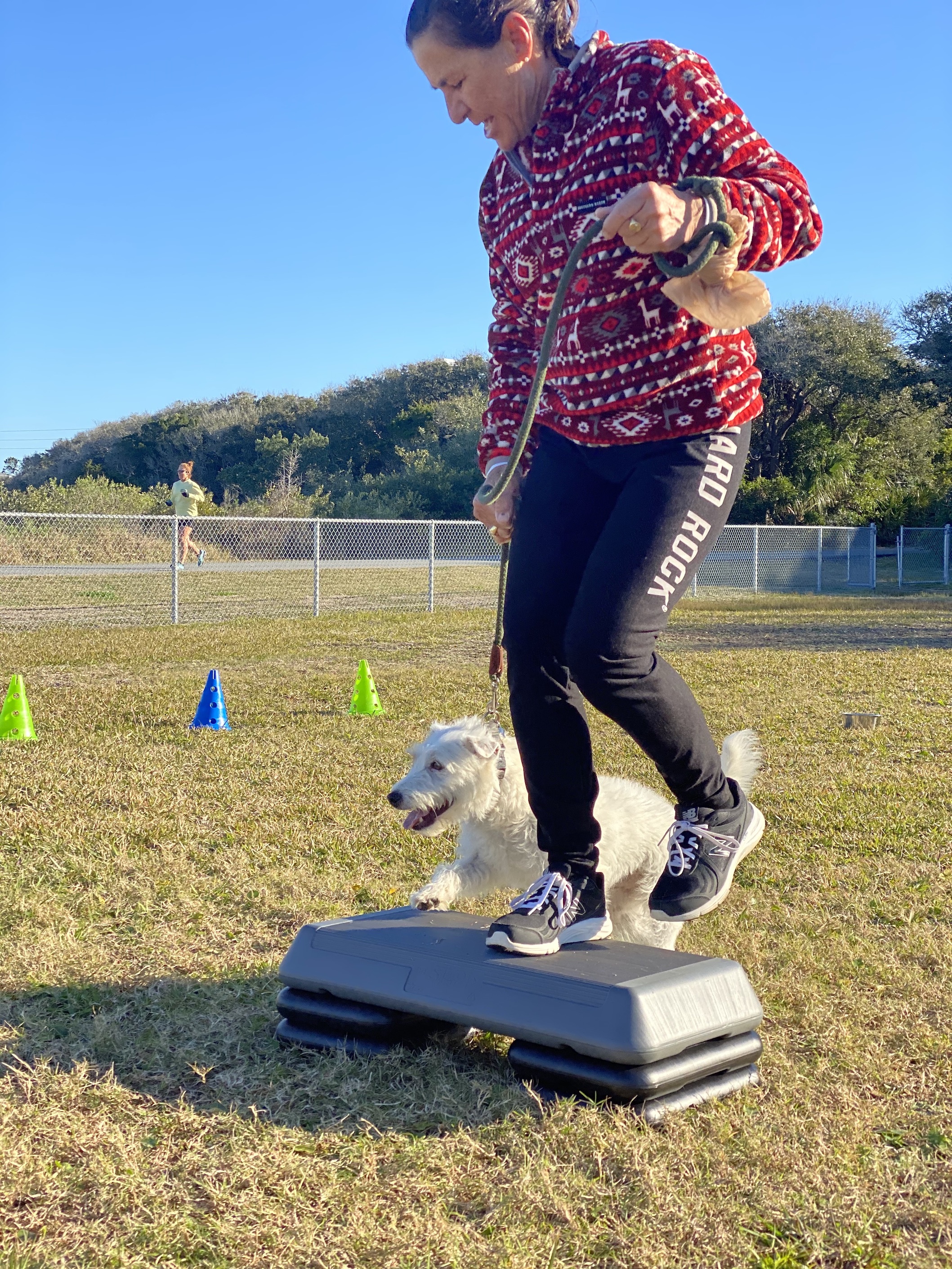 What brought you to St. Augustine?
Dog-friendly is what drew us to St. Augustine. We knew nothing else about St. Augustine and had never even visited before. We were tired of living in NH, the winters were getting long, so we bought an RV and came down and stayed at the North Beach Camp Resort for three months, found jobs, found a place to live and stayed.
St. Augustine is one of the friendliest cities for dogs in the country and since our dogs are number one, that was important to us…plus it's warm.
What are your favorite things to do locally?
We have so many favorites. We live downtown and I'd say one of the places the dogs love the most would be Faux Paws Dog Boutique. They love choosing samples from the cookie tray, but I try to limit them to one per visit.
There are a lot of dog-friendly dining places in St. Augustine; our favorites are Scarlett O'Haras, they have a great porch, Florida Cracker Cafe, Auggies Draft Room, OC Whites has an awesome patio plus the dogs love the fish bites from the kid's menu, and Meehan's backyard is a cool place to hang out. The managers and staff always come out and give the dogs a lot of attention.
I love that all the beaches are dog-friendly and that there is just so much to do with them here. So, I guess it's really all about the dogs.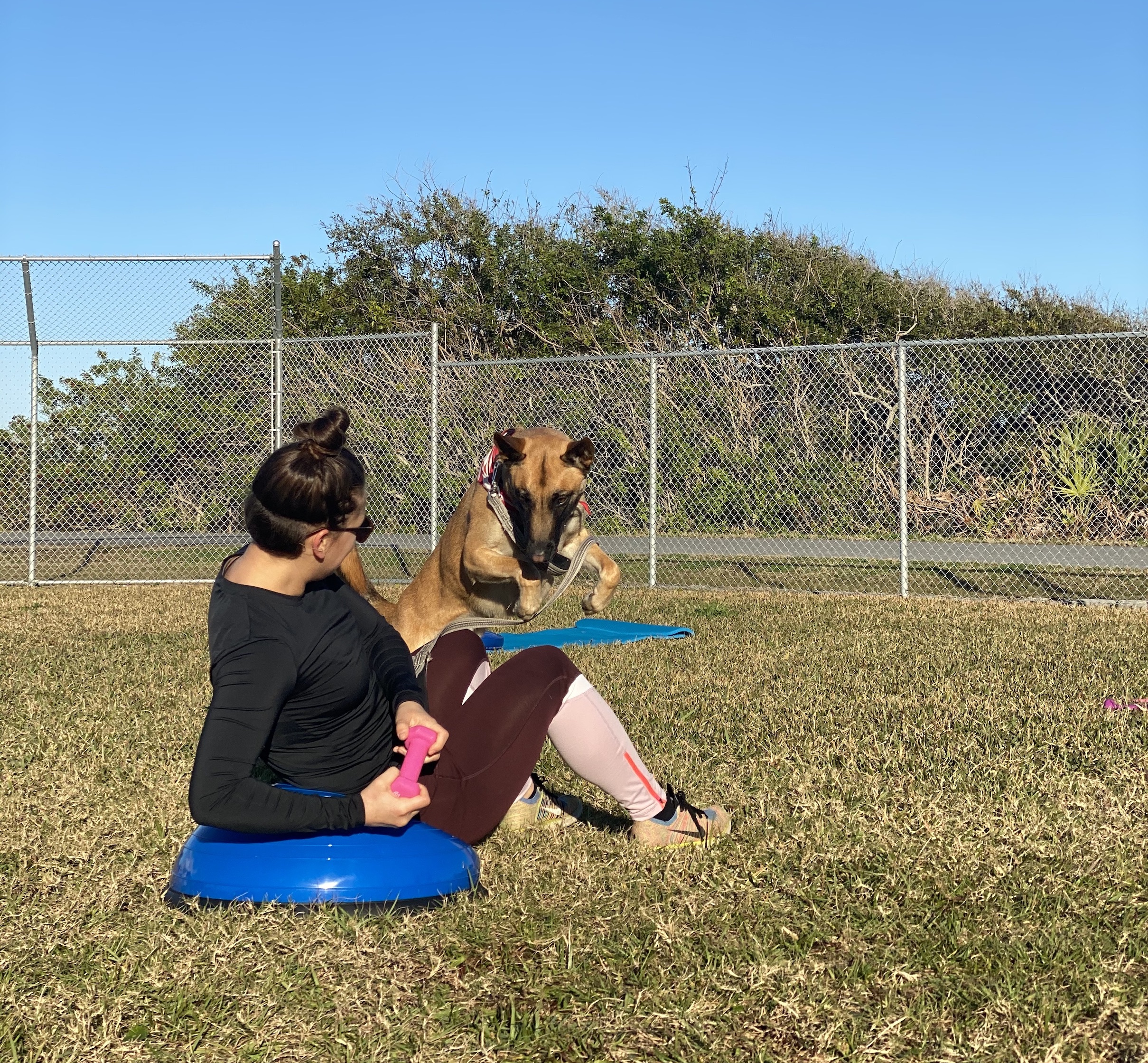 What's your goal for the K9 fit club?
We want to inspire people to come out and have a good time. Fitness doesn't have to be hard or intimidating. We utilize specialized Fit Paws equipment so K9 Fit Club will tire the dog out more than a walk because it's mentally and physically stimulating. You'll get more benefits doing this for 30 minutes than you would walking because when taking a walk, the dog is stopping to sniff and the person isn't getting their heart rate up enough to burn calories.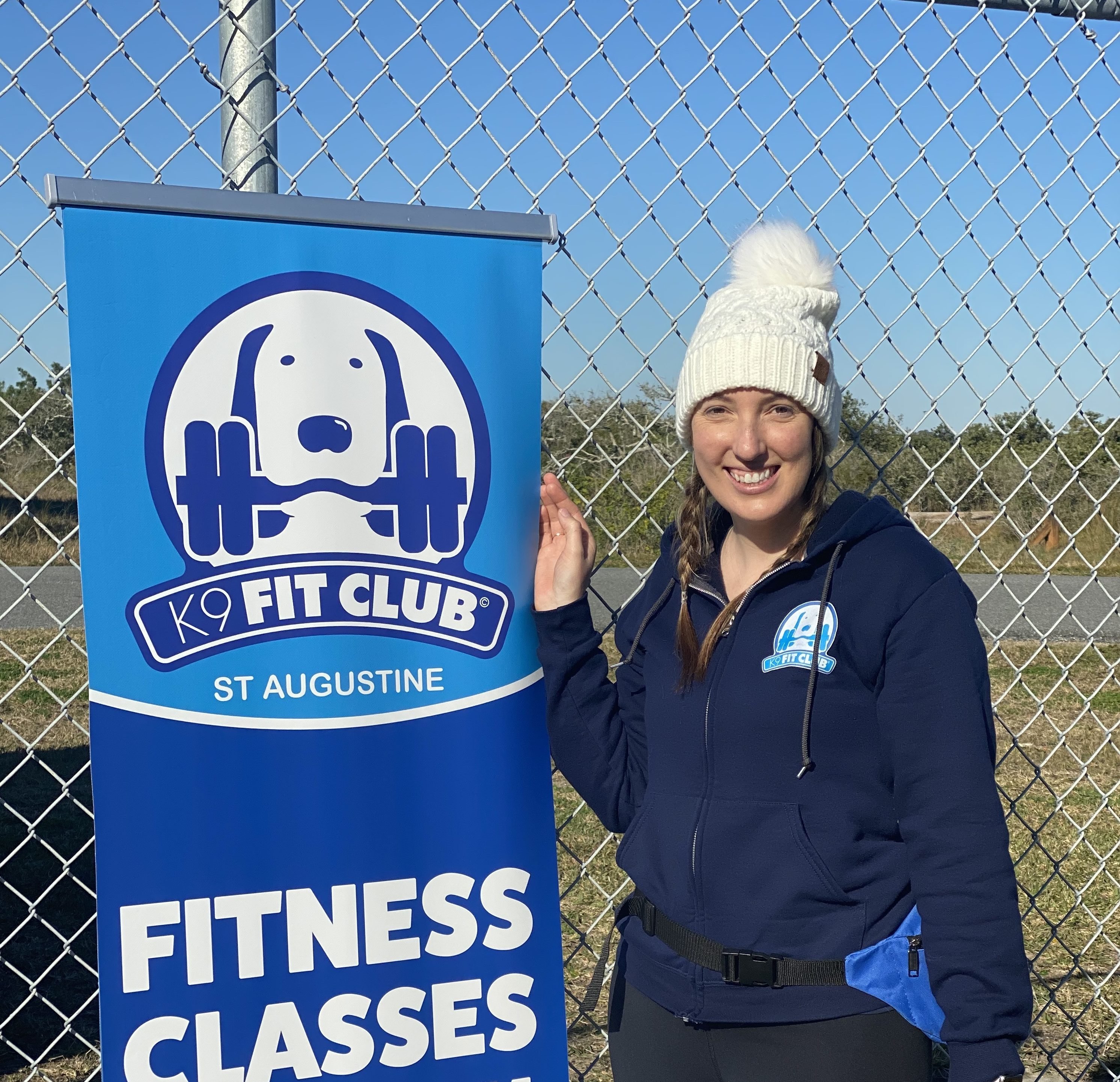 We currently offer classes on Saturdays at 8:00am and will be adding more class times soon. For safety reasons we do not permit retractable leashes, gentle leader face harnesses, or prong collars. We provide water for the dogs. I do recommend bringing low calorie treats for your dog to motivate them to perform the exercises. Using a portion of their daily kibble is also a great option. Other than that, just closed-toed tennis shoes for the humans.
Before coming to class there is a liability waiver to complete on our website and proof of vaccinations including rabies, bordatella, distemper, and parvo. You or your vet can email proof of vaccinations to [email protected] or we will accept a screenshot from your app or web portal.
Just come on out and have some fun! If you don't own a dog but have a rescue dog that you are familiar with, we welcome you to bring them. As a matter of fact, Dogtown USA has an adoptable dog named Lenny, he's featured in Unleash Jacksonville this month and would be a great candidate for K9 Fit Club.
In the future, we plan to work with some leash and loan programs with local rescues to get the adoptable dogs out, socialized, and give them some more exposure to potential adopters.