Things to do in St Augustine
Discover the Best Nighttime Activities in St. Augustine, Florida
St. Augustine is a vibrant and captivating city with rich history, natural beauty, entertainment options, and culinary delights. But did you know that this wonderful city also comes alive at night? Offering a different experience during the evening hours, join us as we uncover the top things to do at night in St Augustine.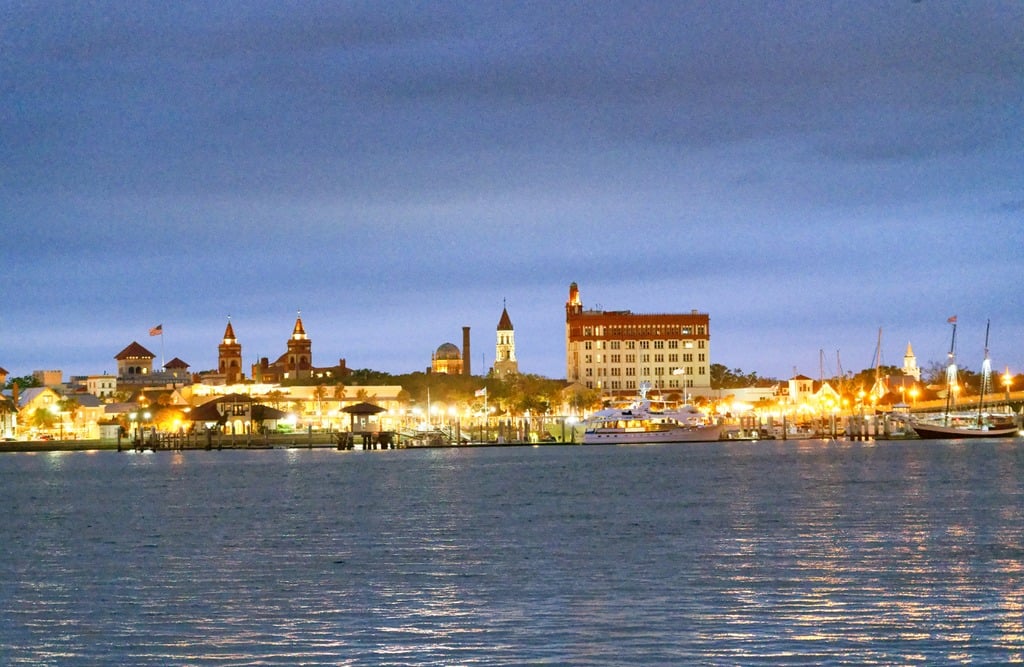 Experience a Thriving Nightlife Scene
If you're a music enthusiast or simply looking for a lively evening out, St. Augustine offers a diverse range of venues and performances to suit every taste. Visit local music venues, bars and restaurants where you can enjoy live performances by talented musicians covering a wide range of genres. From soulful blues to energetic rock, the city's music scene has something for everyone. Settle into a cozy corner, sip on a craft cocktail, and let the melodies transport you to a world of rhythm and harmony.
If you prefer a more intimate setting, seek out the quaint coffee shops and wine bars that often host acoustic performances or poetry readings. Unwind in a relaxed ambiance while appreciating the talents of local artists, accompanied by a glass of fine wine. One of my favorites is Casa De Vino.
No matter your musical preferences or preferred form of entertainment, St. Augustine offers a dynamic and engaging nightlife experience. Put on your dancing shoes, embrace the rhythm, and let the city's vibrant energy carry you into the night.
Indulge in Culinary Delights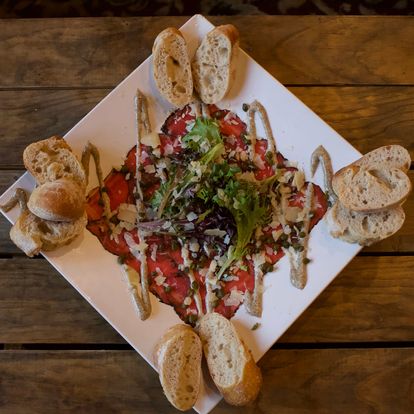 St. Augustine is a paradise for food lovers, especially those seeking a taste of Southern cuisine. Prepare your taste buds for a delightful journey through flavors that are rich, comforting, and steeped in tradition.
Start your foodie adventure by sampling the region's seafood specialties. With its proximity to the Atlantic Ocean, St. Augustine offers a fresh and diverse selection of seafood. Indulge in succulent shrimp, plump oysters, and fresh mahi to satisfy your seafood cravings.
To immerse yourself in the Southern culinary experience, don't miss the chance to try classic dishes. Savor the tangy and tender goodness of pulled pork barbecue, crispy fried green tomatoes, and buttery, flaky biscuits smothered in rich sausage gravy.
St. Augustine's food scene features a wide range of restaurants, from cozy diners to upscale eateries, each putting their own unique twist on Southern flavors. Some establishments pay homage to traditional recipes passed down through generations, while others offer innovative interpretations blending Southern ingredients with global influences. Embark on a culinary journey that will leave you craving for more.
Explore Hauntingly Thrilling Ghost Tours
For an exhilarating and spine-chilling adventure, St. Augustine's ghost tours are an absolute must. Known as one of the most haunted cities in the United States, St. Augustine provides the perfect setting for a ghostly exploration.
Join a guided ghost tour and walk through the dimly lit streets of the historic district. Listen to tales of restless spirits and haunted locations, and keep a watchful eye for any paranormal activity. The tours offer different themes, from blending ghostly legends with factual accounts of the city's history to sharing spine-tingling encounters and firsthand experiences of ghostly encounters. Regardless of the tour you choose, be prepared to embark on a captivating journey that will both thrill and intrigue.
As you venture through the city's haunted spots, you'll appreciate the rich folklore and mysterious tales that have become ingrained in St. Augustine's cultural fabric. The ghost tours offer a unique and unforgettable experience that will leave you questioning the boundaries between the natural and the supernatural.
Join Pub Crawls and Explore Craft Breweries
If you're looking for a lively and social way to experience St. Augustine's nightlife, joining a pub crawl is a perfect choice. These guided tours take you on a spirited adventure through the city's best bars and craft breweries, allowing you to sample a wide range of beers and immerse yourself in the local beer culture.
Embark on a pub crawl with fellow beer enthusiasts and friendly guides who know the city's craft beer scene inside out. You'll visit carefully selected establishments where you can taste crisp lagers, hoppy IPAs, rich stouts, and refreshing ales. While sipping on each beer, take a moment to appreciate the craftsmanship and passion that goes into creating these small-batch libations.
St. Augustine is home to several notable craft breweries, each offering its own unique selection of beers and creating an inviting atmosphere for visitors. Some breweries boast spacious taprooms where you can relax with friends, play board games, and engage in lively conversations. Others provide outdoor seating areas, allowing you to enjoy your brews while soaking in the vibrant energy of the city.
During your pub crawl, you'll not only get a taste of the local beer scene but also learn about the brewing process, interact with knowledgeable staff, and gain insights into the city's rich brewing traditions. It's a chance to expand your beer palate, discover new favorites, and create lasting memories with like-minded individuals.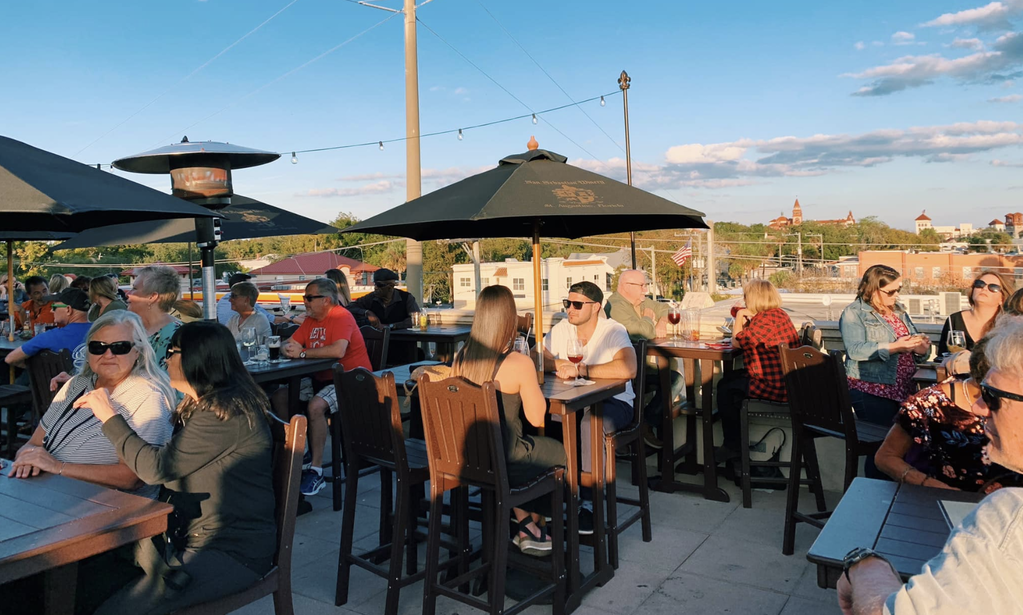 Visit the San Sebastian Winery
If you're a wine aficionado or simply enjoy indulging in a glass of vino, a visit to the San Sebastian Winery is a must-do in St. Augustine. Located in the heart of the city, this award-winning winery combines Old World charm with modern winemaking techniques, offering visitors a delightful experience that showcases the region's viticultural prowess.
Step inside the winery and embark on a sensory journey as you're greeted by the aroma of aging wines and the sight of rows of oak barrels. Knowledgeable staff will guide you through a tasting of their diverse selection of wines, from crisp whites to full-bodied reds. Savor each sip, allowing the flavors to dance on your palate and transport you to the sun-soaked vineyards of St. Augustine.
After the tasting, visit the roof top deck for some star gazing or live music while you enjoy some gourmet food items that pair perfectly with wine.
As you can see, there is a myriad of things to do in St. Augustine, Florida, at night. Take the time to wander through the charming streets of the historic district, admire the stunning architecture, and enjoy the street performers. St. Augustine, Florida, offers a different and enchanting experience at night, so make sure to take it all in and enjoy every moment.
For my local favorites click here