I had a chance to meet and get to know a bit about Chandelle in between her current projects. Chandelle went from being a stay at home mom to starting a business in a male-dominated industry. She is not only gorgeous, fun, and smart; she is an artist skilled in a trade where you won't find many women and quickly becoming a sensation in the Faux Industry.

What is The Faux Collective?
We are a collection of artists skilled in various faux painting and plastering applications. We refinish every interior and exterior aesthetic surface imaginable from cabinets, countertops, tile, walls, furniture.
I originally started with Chandelle Paints but knew if I wanted to create a team, I couldn't use that name as a collaboration, so I decided to launch The Faux Collective this past August. As soon as we launched, as I projected and expected, the brand started exploding. Artists from all over the world have found me on Instagram willing and ready to collaborate and work as The Faux Collective.
My goals and aspirations for The Faux Collective are to develop a dream team of artists that specialize in working with paints, mineral, and Venetian plasters, epoxy, stains, glazes, and many other surface refinishing products. I never want to turn down an opportunity to enhance someone's space; my team enables me not to.
What did you do before you found The Faux Collective?
Some would have considered me very much a free spirit. After high school, I had it in my mind that I wanted to be an actress. After graduation, I hit the road on an adventure to Los Angeles. I lived there for a few months until I realized that was not the scene my soul connected with. I moved back to Savannah, GA, where I attended Savannah State University on a full-ride tennis scholarship. I have a hard time sitting still, so college only lasted two years for me, and then I jumped right into working as a technical railroad drafter for a fortune 500 company known as Siemens. I packed up my belongings and left Savannah to take my first corporate job in the big city of Jacksonville, FL. My life quickly changed after that. I met a man, fell madly in love, we bought and renovated a home together, got married and pregnant, left my job to be a stay at home with our beautiful daughter, and started painting everything in sight.
How did you get into this trade?
I want to say it is from both nature and nurture. My entire family on my mother's side is involved in the home improvement industry one way or another. But I would say it was nurtured into me mostly. It never failed; every day, when my siblings and I would come home from school, my mother would have changed something up around the house whether it was moving furniture around, switching up our rooms, painting the cabinets a bold color or knocking out walls to make our space bigger.
One day I came back, and she had a tiny little office trailer put on the property, which became my room, and she got a school bus for my brother to live in. We weren't your average family, and that's being modest with my words. (lol)
My mom made our home the best she could. My initial interest stems from her. Still, I feel my real passion for the faux industry started about five years ago when we bought a 1905 Queen Anne Victorian historic home that needed to be aesthetically rehabbed.
We had to refinish all the surfaces, and that is where my interest in this all began. I got sick of painting the walls one color, so I started looking up how to paint a decorative wall. I had no idea what faux painting was, so I started experimenting with glazes, paints, and plasters… the rest is history. ☺
My divorce pushed me to break out of my comfort zone more than any other situation I've ever gone through before, leaving me with no choice than to go back to work. I knew I couldn't go back to an office, so since I found my passion for decorative painting, I knew I wanted to do something in that industry. I just didn't know where to start.
How did you break into the business?
I started to work with house flippers. I began by doing whatever work they needed me to do, whether it was removing carpeting, nail strips, rolling latex paint on walls, and even demoing and removing tile. But it was just a means to pay the bills while I figured out how to break into the decorative painting business. I spent many late nights researching new techniques and long days working for other faux painting companies learning the trade.
I love going into a client's space who is in desperate need of a change and letting them know I can change it by using a product rather than demolishing what is there. What I do for them is unique; it's not something mass-produced and will not look like what anyone else has. I'm not against demolition at times, but if there is a set of cabinets we can save, make them look completely different and high end. I can do that!

How do you make something old look high-end?
There are so many products on the market, and I have spent couness hours researching, trialing, making mistake, and succeeding! Let's just say I've earned what I know.
Tell me something that many people don't know about you?
I am incredibly empathetic, introverted (many don't believe this), and I love singing. If I weren't enhancing spaces around the world, I'd be singing around the world. I'm not saying I am the best, but I love it and spent my entire childhood in the chorus and choir.
Music feeds my soul. I rarely use to share my love for singing, but recently I started to publicly sing more because I want my daughter never to be afraid to try or do anything she is passionate about. I want her to sing, dance, perform, and be whatever she wants. So far, being brave in front of her has worked. She is now singing for people without hesitation. It makes my heart swell!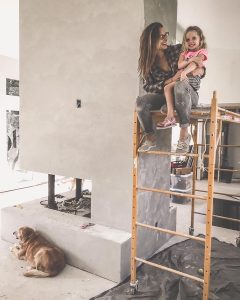 Where are you from?
I grew up on a farm just off of an old red clay dirt road one hour outside of Savannah, GA. We were pretty far from town, school, and anything mainstream, so we had to find our ways to have fun. I was an expert tree climber, and I got into enduro dirt biking. I wanted to race motocross, but that was not allowed. I could not wait to get out of there and explore the world and interact with different cultures and mindsets. I always felt as a young girl that I was put on this earth to help change it. I didn't know what the avenue and path would be, but when I got divorced, I had no choice but to look within and grow spiritually. I began choosing to look at every aspect as a challenge to grow and be the best version of myself in hopes of leaving a little spark of inspiration wherever it may land. Now I incorporate my passion for creating beautiful spaces, my struggles with being a single mother, and my spiritual life into my daily blogging on my social media accounts.
What's the benefit of having you use products for a re-design vs construction?
Some of my clients prefer to change up what they have vs. reconstruction because it's less time consuming and less dirty. Many of my clients live in their homes at the time of the project, so I give them an option that doesn't involve demolition or construction, keeping it cleaner, efficient, and economical, plus the design is custom.
Using epoxy, I can make laminate countertops look like marble, granite, stone, or art. These products can help save a client from having to rip out the existing countertop, paying the high cost for the slab, paying for the delivery, and the labor cost of having it installed. It also allows them to have a one of a kind countertop that NO ONE else will have.
I recently painted a Terracotta backsplash off-white and added stenciling embellishments over the top. The dark tile made the kitchen feel narrow, so I enhanced not only the aesthetic appeal of the tile, but it also enhanced the feel of spaciousness in the kitchen. It was more cost-effective and less messy for the client, and she had a part in picking her colors. That, along with painted cabinets, gave the whole kitchen a new look.
Have you done other commercial work locally?
I have faux painted restaurants and office spaces throughout northeast Florida. A local pizza restaurant named Anthony's Pizza wanted a concrete wall look, but the budget didn't allow for plaster, so I used glazes and paints to achieve a faux concrete look. They have AMAZING pizza, by the way!
Tell us about Venetian Plaster and what you love about it?
I want to say first of all that there are many types of plaster. Venetian plaster is just one type, made with limestone and marble dust; when you apply and compress it the correct way, it creates veining and shine, giving the walls the look of marble.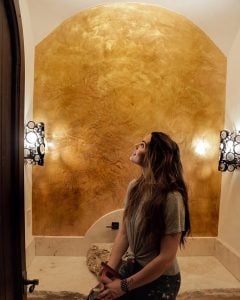 There are other mineral plasters that I use that I am also passionate about using. The main reason I love plaster is that I am a big advocate for adding earth elements in your house, place of business, or commercial spaces. I love using plaster in a home, whether it is on a fireplace, an accent wall, an entire house, range hood, or even on stairs or shelves. If you take a look at my website, you'll see what I am talking about. You can achieve looks from all interior design genres, including contemporary, modern, traditional, industrial, and chic. You have to find the right person that has the knowledge of the products…ME ; )
How do you keep up with your skills and knowledge?
The faux painting industry is ever-changing. It is very much directly related to the fashion world. It changes like the fashion world, and if you want to stay in business, you have to keep up with the latest products. The products are so diverse, and the options are endless. I know the foundation and have learned a lot. I follow the top in the industry to stay up to date.
What are some big projects that you are will be working on?
We have an entire kitchen in a cabin home in the North Carolina mountains coming up. I am very excited about this one as the client has a unique taste, and we are introducing RED into her kitchen!
We also have a massive project coming up down in south Florida at a shopping mall where we will be faux wood graining 45 five drywall beams throughout the entire mall. Since it's a large project, I'll be bringing in artists from all over the country. And so The Faux Collective begins…
How do you get most of your business?
I have had tremendous success by marketing on social media platforms such as Instagram and Facebook. I realized very quickly the power of marketing and have taken on the role of marketing in the last year as well. The business has built up for me over the last two years, and referrals and word of mouth are finally starting to become more prominent as well. I work all over the southeast region and look forward to taking my business nationally and abroad.
Facebook and Instagram @chandellepaints @thefauxcollective
Is there anything exciting coming up that you would like to share with everyone?
Yes! I recently have had two TV Networks reach out to me. They found me through my Instagram handle: @chandellepaints
CBS contacted me for a reality show that is being produced by Phil Keoghan of the Amazing Race. It's titled "Tough As Nails". Phil wants to show the world "Real People. Real Life. Real Tough." The plan is to cast hardworking men and women and put them in team situations where they have to compete to accomplish tough tasks geared towards several different industries that work in extreme situations.
The other network is for Bravo. They also found me through Instagram as they are searching for women that work in a male-dominated industry that defy the stereotype. They want to see both sides of my life: dirty and pretty, the struggles and the successes. They also want to include my best friend Beatrix (Bea), who I just made my business partner. I adore her so much and have never known a friend like her. We met in Jacksonville when we were both pregnant at the same time. The network is interested in meeting her too, since she lives with me and will be involved in the show. We have both interviewed with them, and now they are compiling a pitch to the producer.
What other plans do you have for The Faux Collective?
Earlier this year, Bea and I both had this idea that we would like to break into the sailboat and yacht industry. Pouring custom epoxy countertops and finishing cabinetry with high-end enamel paints brings excitement to my creative brain!
I manifested that and soon will begin working on my very first sailboat pouring epoxy countertops and shower floors. Stay tuned on social media for the results!
Where do you see yourself in 5 years?
I see myself creating, repurposing, and educating the world on plaster. I want to buy my dream piece of land where I can build the house I designed for my me and my daughter. I want my home to be a place where we can grow our food and create an artistic community for like-minded individuals to experience. I love a community lifestyle but still want to have my own space for retreating, processing, and connecting within.
What is your ultimate goal with The Faux Collective?
My goal for The Faux Collective is to be successful in all of our creative endeavors while growing a steadfast team, first locally, and then expanding the team nationally and even internationally.
To be able to provide faux artists the opportunity to create for a living, make a living, and enjoy their work environment is very important to me personally. I know how hard it is to be an artist, create a comfortable living, and feel rested and loved.
I found you on Instagram, and we all know it's hard to know what is real on social media and what isn't. What do you want people to know about you?
I want to keep it real. I know social media can make one's life seem perfect all the time, but I'm not perfect. I'm someone who makes mistakes and isn't always confident. I want to be authentic while continuing to challenge myself and finding my dream. That is why @ChandellePaints is so essential because I can tie it all in, even the mess-ups.
A lot is happening in my life, and there are so many possibilities. I wake up every day, excited to work. Like any entrepreneur, there are valleys in this business. I have had many maybes and my fair share of being in limbo at times. With that said, my intuition has been my best friend over the last two years. It has guided me and told me to hold on tight, push forward and through and believe wholeheartedly in myself. I have felt big things coming, and if you are a believer in manifestation like I am, you know the power of the mind is like no other.