Housing Market Correction
I'm sure there are a lot of people that think we are headed for a housing crash.  I'm not here to talk about how the market is different than it was in 2008 (been there done that). I don't want to sound like a broken record (repeat and repeat) instead, I am here to deliver some good news. about the changing housing market in St. Johns County.
First welcome to my channel, I'm Kim Devlin with the Kim Devlin Team here in beautiful St Augustine Florida. We help buyers and sellers every day. If you are interested in learning more about the NE Florida Real Estate market then shoot me a text, call or email. I'm here, and happy to help.
This past weekend I have been touring new construction with some of my out-of-town buyers and I've got some good news to share. Things are changing in new construction, resales included, and I'm going to tell you what I am seeing.  I'm also going to update you on the June stats and tell you what we are expecting going forward this year.
The frenzy my friends, is over. Buyer activity has definitely declined since the rates hit 5% but you know what these rates are normal, and it shouldn't stop you from making a move if that's something you want to do.
Okay, let's talk new construction. The good news is, we are not seeing the price increases we were seeing last year. It felt like builders were increasing prices every week. Then it might have been every 3rd contract they wrote to the point where buyers felt pressured to make a move even if they weren't quite ready. Which really isn't cool.
So now the prices are holding steady and the line of buyers out the door no longer exists. Which means the incentives have returned. Isn't that great news?!
For builders that are working with buyers who are building from the empty lot all the way to the design center, we are seeing a portion of closing costs covered. Even incentives from, $25,000 to 30,000 to use for upgrades. Now that is pretty awesome!
When it comes to builders that build inventory homes, where everything has been chosen for you, including structural and design options.  They are offering closing cost incentives when you use their preferred lenders. On top of that we are also seeing some price reductions here. YES! Can you believe it? It seems like the builders have held all the cards this past year and now things are changing. These inventory builders do not want to hold onto their inventory they want to sell it. With that being said, as the inventory builds you may actually have an opportunity to negotiate the price.
So, if you are needing a home in 3 months or 12 months, you can now get a better deal and incentives. This is a good thing.
And it gets better. Some of these builders are allowing you to lock into your rate 12 months early. They are even offering a rate of 4.99% with their preferred lender. So, if the rates were holding you back, they don't need to.
Florida Housing Market 2022
Now what about existing homes. We are still seeing very low inventory; about 2.1 months in St Johns County. This is actually significant because it's a 90% increase from a year ago at this time. Even though it's still very much a sellers' market, this is a sign that sellers are still listings their homes. The number of properties going under contract is down 27% compared to this time last year. This means the market is showing signs of balancing which will offer an even playing field for buyers and sellers alike.
In St Johns County Florida we are expecting homes to continue to appreciate but at a slower pace most likely in the single digits.
I'm also seeing price reductions as well in the area. There are still sellers out there who are holding on tight to that rush of a sellers' market that we had been seeing, which I feel peaked in mid-April in certain areas.  Right around May we started to see the homes sit a little longer.
Now we are nowhere close to the pre pandemic prices, and I don't expect us too really ever be there again. We are starting to see a normalizing of the market. Prices coming down to where they actually should be based on comparable sales.
With that being said, there are still some tough markets to get into. Is there is a specific neighborhood or area you are interested in? Let me know and I can help keep an eye on it for you, so you don't miss an opportunity.
Florida Housing Bubble
As for the rates, yes, they are higher than they've been.  The rates in the 2's and 3's are not normal; those were historic lows. The good news is 5% or 5.5% is certainly still low especially if you look at the rates over the past 30 years, where the average was 7.77%.  There are also some 5- and 7-year fixed rate loan products out there that might bring your rate down to the high 4's. If you plan to sell in 5 years this could be a great option for you. If not, it'll allow you time to refinance to a better rate.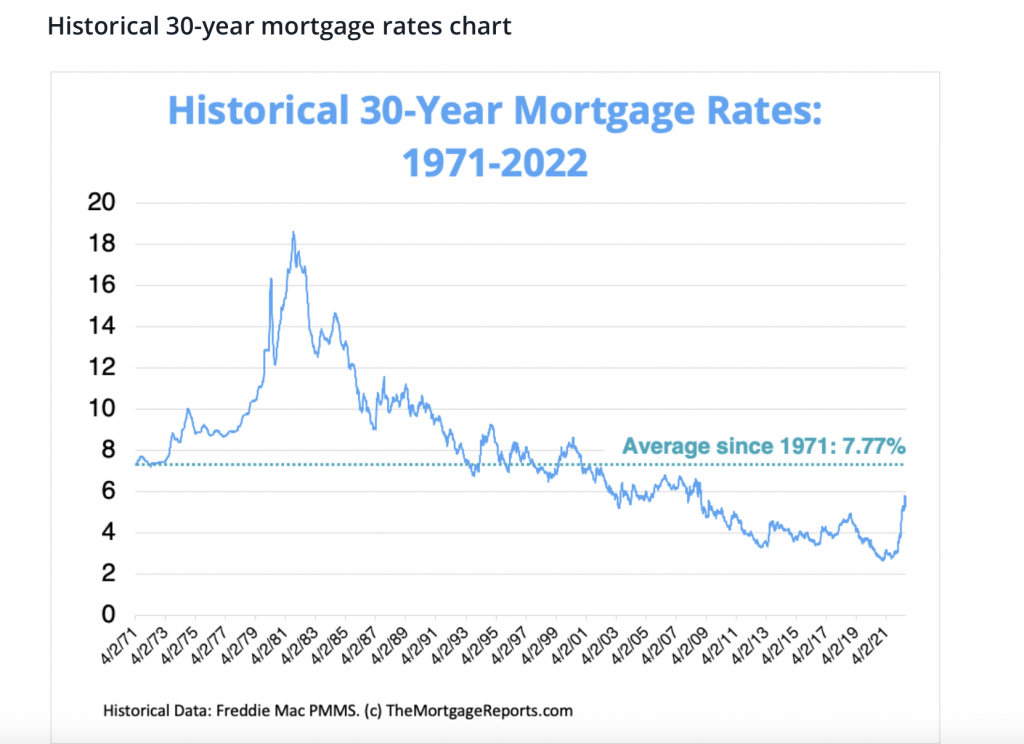 Either way, this is not a negative time in the housing market. If you want to see a bad time for housing, go back to the 80s. If you weren't born yet, google savings and loans crisis. This is not that, so it is great to see opportunities for buyers to get into new construction and existing home while feeling like they hold some of the cards now.
I hope this made you feel more positive about the market here in St Johns County Florida. If a new home is on your radar and you need help, I am here.  So, reach out, call, email, text. I'm ready when you are. Thanks for tuning in and I will catch you on the next one.