Living in Palm Coast to St Augustine
If you have read my blog before, you know that I focus a lot on St. Augustine. I live here, work here, and love everything it has to offer. But in recent years there has been a big increase in interest in the Palm Coast, so today I'm going to compare living in St Augustine to the Palm Coast.  
Today we are going to talk about two areas in northeast Florida, and compare the lifestyles, neighborhoods and homes you can find in both. The two areas are St Augustine versus the Palm Coast. 
St Augustine is located in St Johns County and covers areas from Marineland to north of the city district and west out to World Golf Village. The Palm Coast is the largest city in Flagler County and runs from the Hammock areas south to Flagler Beach and West towards US 1.
Palm Coast is just a 30 minute drive south from the historic district of St Augustine but from points North to South, it can take longer.
Let's start with things to do in St Augustine
Both of these areas offer beautiful beaches and the endless summer lifestyle. 
Either place is the perfect distance to travel to and from for a day out exploring or discovering different shops, dining, or water activities. But in many ways, St. Augustine and Palm Coast feel like totally different worlds! 
In St. Augustine, you have the historic downtown district at the heart of the city. Teeming with sites, shops, restaurants, bars, and year round events. There is always something to do and see in St. Augustine. You have your choice of miles of beaches nearby, either north to Vilano or south to Anastasia Island.  Big attractions like the Lighthouse, Alligator Farm, and concerts at The Amphitheater. 
Other festivals and events are almost non-stop around downtown, St. Augustine Beach, and even in the neighborhoods! You can enjoy the annual Cathedral fair, Lincolnville's Porch Fest, Sing Out Loud music showcase, and historical reenactments like Drake's Raid. On a smaller scale there is always a celebration or challenge to find, from the First Friday Art Walks at the galleries to 5k Runs and a "Pups & Sups" surfing contest for the dogs! 
If you are looking for a little more R&R lifestyle,  you might want to consider heading a bit south to the Palm Coast! The beaches there are just as beautiful and often less crowded than the popular shoreline in St. Augustine. Unlike St Augustine, there are NO drive on beaches – so it never gets too crowded or loud as you are out soaking in the sun! 
And for the outdoor enthusiasts, Flagler County hosts over a hundred miles of trails for hiking, biking, or horseback riding!  Including Washington Oaks State Park and Princess Preserve.
As far as tourism goes, St Augustine is the oldest city in America, this area gets a lot of tourism. In Palm Coast you will mainly find the Hammock area gets most of the tourism since that is where the beach access is and the Hammock Beach and Golf resort is located there as well. 
Palm Coast has been named one of the "best places to retire" according to Retirement Living and you can definitely feel the slower pace of your day in comparison to bustling St. Augustine. But you will not sacrifice on amenities! Palm Coast offers plenty of options for eating, dining, and shopping.
One of the highlights of Palm Coast is "European Village" – a charming old world feel plaza  with a few boutique shops, cafes and restaurants and community events, such as the farmers market and live music at the gazebo. The Village is charming, it's not big, but it is a fun place to go and grab a bite. They have a couple of really great restaurants from sushi to Indian, latin and Italian.
Where there are good schools, there is development.
Now St. Augustine also attracts many retirees and down sizers, and there are many 55+ communities such as Del Webb in Ponte Vedra, Villages of Seloy in St Augustine and Parkland Preserve in World Golf Village but we are also a family-oriented area, drawing in new residents looking for good schools, which St Johns County ranks high in.
The county schools are a huge draw for people moving into the St Augustine area with young families. In a survey done by Realtor.com about 73% of home searchers and buyers ranked schools as one of the most important factors in determining the area they looked in. If this is a big consideration for your family, be sure to read up on the districts and rankings.
Home values in St Augustine have been steadily on the rise over the past decade.
The increase in tourism has piqued the interest in the area for many people looking to move to Florida and this increase continues to drive up property value and bring in dynamic new residents and visitors.  
The continuous population growth which has increased 3.79% in the last year has expanded St. Augustine west and north. Communities in St Johns County like Silverleaf, Durbin Park and Nocatee cater to families seeking top-rated schools, while still being convenient to the offices and industry in Jacksonville.
Unlike its neighbor, Palm Coast has had a slower population growth increasing only about 1.55% in the past year. Mainly because they are not seeing the larger master planned communities being built like they are in St Johns County.
St Augustine is seeing a lot more development consisting of master planned type communities with resort style living north and west but older type neighborhoods are consistent in and around the city of St Augustine and the beaches.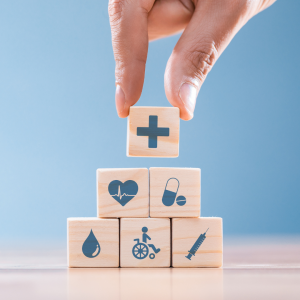 Another perk of St. Augustine is the great health care available. Flagler Hospital Center, the closest facility to historic downtown and the beaches, has an excellent reputation and extensive out-patient network. There are new hospitals and facilities recently completed or underway to cater to the increasing population size: find out more in my video on HOSPITALS at the link below! There is also a general attitude of self-care, fitness, and good living around here – in fact St. Johns County was voted "Healthiest" in the state in 2022 for the 11th consecutive year!
Similar to St. Augustine, Palm Coast also provides residents with a lot of great health care options. There are multiple in- and- out-patient facilities and great specialty services. A new complex from Flagler Health+ is also on its way and will be a state of the art hospital. 
The growth of St. Augustine in recent years has definitely had an impact on home values. St. Johns County has been the FASTEST growing county in Florida over the past 10 years, increasing the population by 40% and the demand for new and resale listings has   Like all markets, a lot of the real estate value is based on LOCATION LOCATION LOCATION!
Single Family Homes near the beach average $1 million in price and ocean front would average $2.5 million. There are a lot of condo complexes on St Augustine beach where you have many options starting at $400k. Many of these condos are small, about 1000 sq feet.
Further inland, older neighborhoods like St Augustine Shores offer mid-century bungalows to larger ranch and florida style homes from the low $200k to $600k, while the newer communities further north like Nocatee start around half a million.
One of the highlights of Palm Coast is the "European Village" – a central gathering space packed with boutique shops, cafes and restaurants, day spas and community events! The Village is charmingly reminiscent of Old World plazas, but with all the fun and easy-going attitude of beach life!
For the golf enthusiasts, Palm Coast has a DOZEN courses to choose from, including a few designed by legends like Jack Nicklaus and Arnold Palmer. Some links even run along the shoreline, providing a beautiful backdrop for your drive. Speaking of driving – if you are a NASCAR fan, Palm Coast is just 30 minutes to the Daytona International Speedway!
While the calendar is not as jam packed as St. Augustine, Palm Coast does still host a number of events and festivals throughout the year. Join the locals and visitors alike for events like the Biketober Fest, Shakespeare in the Park, Songwriters Festival, and weekly farmer's market at the European Village!
One of the most unique features of Palm Coast is the availability of canal front homes. Unlike in St. Augustine, Some of this area is built around accessing the Intracoastal Waterway, and the majority of neighborhoods include both private docks and public boat ramps. This definitely sets Palm Coast apart from its neighbor up the A1A, and offers home buyers seeking a waterfront lifestyle many more options at a much more affordable price.
Similar to St. Augustine, the ocean front homes tend to be on the higher end of the market, starting near $1 million and going up from there. But if you are looking for a low-maintenance condo, Palm Coast offers more luxury options than you might find in St. Augustine. The expansive oceanfront complexes like Hammock Beach and Surf Club are perfect for enjoying your retirement years surrounded by top shelf amenities like poolside cabanas, fitness centers and sports courts, and exclusive beach access.  These places are mostly tucked into the area commonly called "Hammock Beach", which is at the northern end of Palm Coast between the ocean and the river.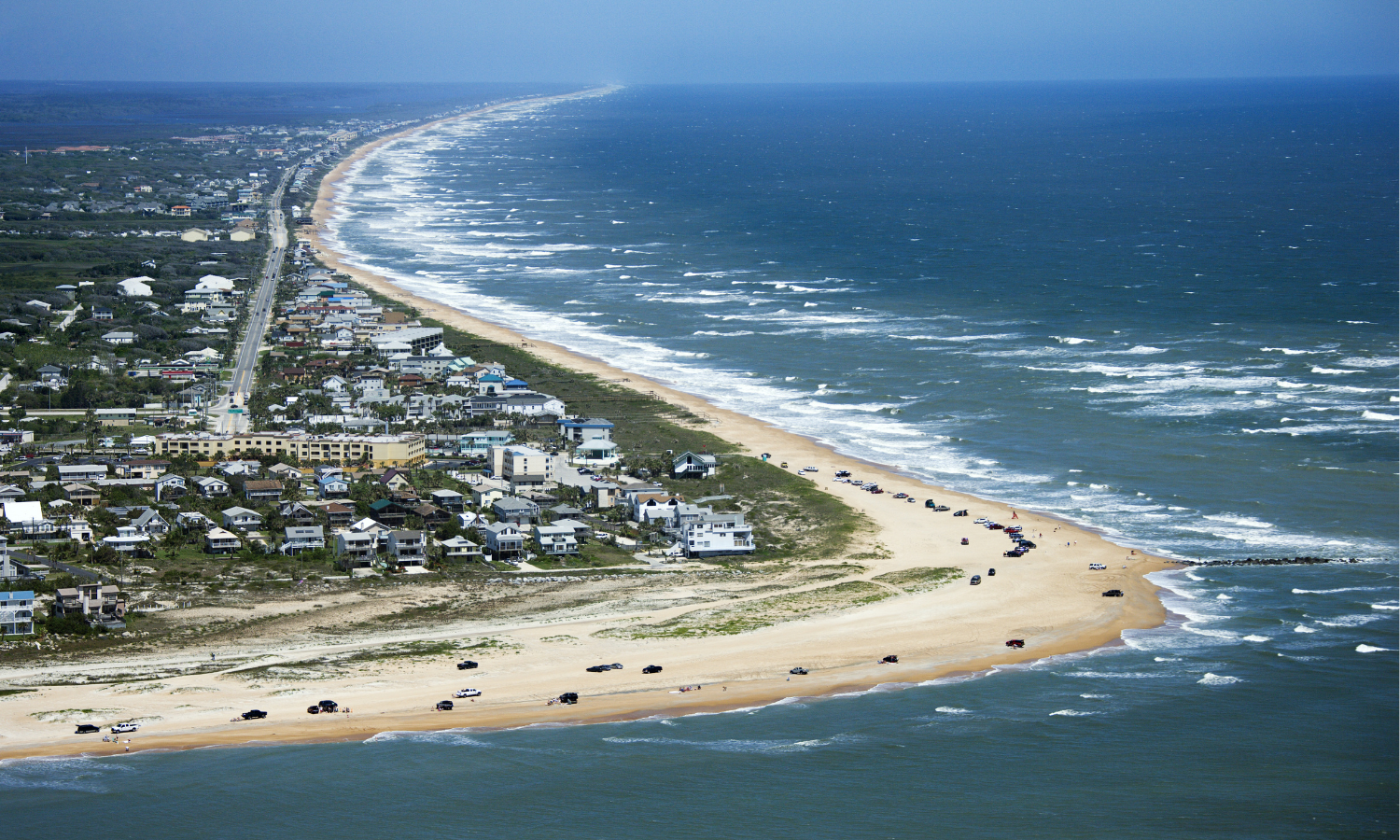 In the middle section of Palm Coast, west of the ICW, is where you find the most canal homes. The neighborhoods here are arranged in an assembled grid pattern and almost all have direct waterfront property. At first glance, the real estate values for Single Family Homes of similar size, quality and age seem comparable between this area and many neighborhoods inSt. Augustine, typically ranging from the mid $200ks to half a million…. But in Palm Coast that property might just have a private dock or boat lift right outside! 
The southern end of Palm Coast is a more organic residential area, with a mix of homes from the mid-century through new construction. Most of these are more affordable properties with low or no HOAs, BUT be aware that most of this part of town is managed by the government. The county and city offices impose the taxes and regulations- like lawn maintenance and boat or RV storage –  which can sometimes be a lot more strict. 
Overall, the cost of living in Palm Coast may be slightly lower than St. Augustine: municipal services and utilities are about 6% lower than other areas in Florida, and the average home value is about 28% less… However there are some bigger gaps in income and property values from the one end of Palm Coast to the other!
So for those who want to spend everyday paddling, fishing, and cruising out on the water, Palm Coast is one of the best places in Florida to call home. It is definitely a little quieter around the Palm Coast area, but there is no shortage of adventures to make the most of your day. But, if you want a few more options for community gatherings, the state's top rated schools, and a little bit of living history, St. Augustine might be the town for you.
In looking for the home and community that will be perfect for your family, there are a lot of factors to consider. I hope this has provided you with a little insight into St. Augustine and Palm Coast, and what you could expect from the lifestyle and market value in each. As always if you have any questions or want to share your own experiences,  contact me anytime!