Living in Palm Coast Florida
Finding the perfect community to live in, especially when you're relocating from out of state, can be a daunting task. With a plethora of options, it's essential to have a local expert to guide you through the decision-making process. In this blog post, we'll embark on a virtual tour of Hidden Lakes, a charming community in Palm Coast, Florida, and discover why it's become a top choice for many homebuyers living in Palm Coast. So many communities to consider, because finding established neighborhoods can be challenging amidst all the new construction. But Hidden Lakes is one such community, and we'll explore what makes it a standout choice for homebuyers.
Hidden Lakes: A Glimpse of Paradise:
Hidden Lakes is a picturesque community that boasts serene lakes, lush conservation areas, and a range of luxury homes. Because what sets it apart is that most of the homes here back onto a lake or preserve, offering residents breathtaking natural views. This community consists of 375 homes, striking the right balance between size and intimacy.
Transitioning to the housing details, home prices in Hidden Lakes typically range from the upper $400s to the $700s, depending on factors such as lot size and builder. You'll find a variety of architectural styles, including Southern Traditional and Florida Modern models. Some of the prominent builders in this community include Paytas Homes, DR Horton, Seagate Homes, and New Coastal Homes. These homes come with options like wooded or lake views, three-car garages, and cul-de-sac lots. Additionally, all homes in Hidden Lakes feature paver driveways and underground utilities, contributing to the community's clean and uniform appearance.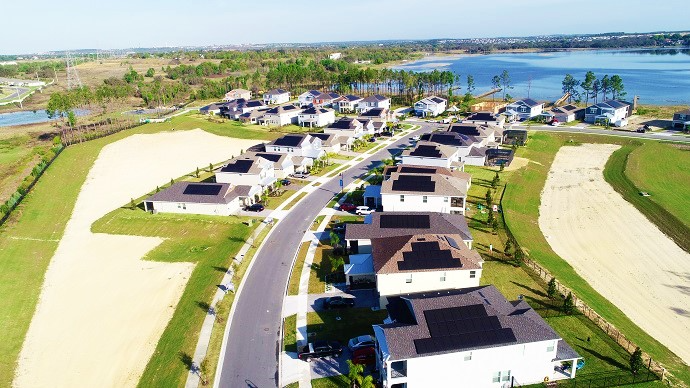 Affordable Luxury:
One of the highlights of Hidden Lakes is its incredibly low HOA fees, averaging just $60 per month. But these fees provide access to resort-style amenities, including a sparkling pool and a community clubhouse. For families, there's a playground, and outdoor enthusiasts will appreciate the hiking and nature trails within the community.
Convenience at Your Doorstep:
Living in Hidden Lakes offers the best of both worlds – a serene community and proximity to essential amenities. Grocery shopping and restaurants are just minutes away, and making everyday life a breeze. A short drive will take you to the stunning shores of Flagler Beach, and you're only about an hour from the airport, ensuring easy travel access. If you crave a taste of big-city life or want to explore historical attractions, Orlando and St. Augustine are within reach, but all within a two-hour drive. Hidden Lakes truly offers a convenient and vibrant Florida lifestyle, with access to resort-style amenities, natural beauty, trail networks, and pristine beaches.
If you're considering moving to Palm Coast Florida, Hidden Lakes should be on your radar. This well-established community combines affordability with luxury and is equipped with an array of amenities, all while offering easy access to everything you need. To further assist you in your research, I've included a link to my Palm Coast Relocation guide in the description.
If you're actively looking for a home and need more details about Hidden Lakes or other communities in the area, don't hesitate to reach out. Your dream home might just be waiting for you in Hidden Lakes, and I'd love to help you find it.
Thank you for joining us on this tour, and I look forward to catching up with you next time.