If you've never lived in Florida before there are some things you need to know before you start your home search.
I'm Kim Devlin with The Kim Devlin Team in St Augustine Florida. I help buyers everyday move to Florida and many times they are surprised by the differences they find compared to where they are coming from,  so I thought I'd share those with you so you can be better prepared when you start searching for a home here.
Why are there no basements in Florida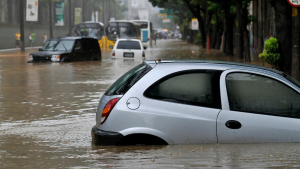 One of the many comments I get from buyers is that there are no basements? There's a reason, Florida is basically a flood zone it just depends on what zone you are in and I have discussed this in another video which I'll share in the end. In a nutshell, the reason there are no basements is because of the high water table and proximity to the ocean. The groundwater is very close to the surface in most parts of Florida making it impossible to have a basement. This does not mean that your house will flood; it simply means that you will not have as much storage as you are accustomed to, particularly if you are coming from a home with a basement. And yes you do have an attic in your house in Florida but I wouldn't necessarily suggest storing items there because it will get very hot. Best thing to do is purge the things you don't need or look for a home with a 3 car garage that you can insulate and store items in.
Be Mindful of HOA and CDD Fees in Florida Developments!
Most of the homes in Florida are in a neighborhood with HOA fees, and most new development are being constructed in Master Planned communities, which come with not just HOA fees but also CDD fees. So what is a CDD fee? In general, the CDD fee includes the bond the builder took out to build the community plus the operations and maintenance for the community so this fee can range anywhere from $800 to $4000 a year. The HOA fee in these types of communities are typically lower and are there to enforce the restrictions and maintain your homes value and are on average  $5 to $40 a month.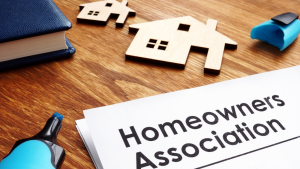 Unless you live in one of the older, more established areas where you may park your RV or boat in your driveway, the house you are interested in is likely going to come with monthly fees.
In areas like the Palm Coast, the majority of the housing is not in an
HOA
 or
 CDD
master planned community but does come with restrictions which are enforced by the local government. For example, if your lawn gets too long you will get a notice to mow it. The Palm Coast also prohibits the parking of RVs and boats in driveways, so even though there are no HOA fees, it will seem like you are living in one.
Watch your water usage
One very important thing to know about living in Florida is that Water is GOLD and half the water used in a home is for watering the lawn. If you are purchasing a home here and it does not have a separate well for irrigation, make sure you  set your sprinklers at the minimum to keep your grass green. The best thing would be creating hardscape and mulch beds because conserving water will definitely save you money.
Keep in mind if you are buying a new home in a master planned community, the home will probably not have a separate well for irrigation and many of these communities won't allow you to install one so this is definitely something to research first if this would be an issue for you.
Florida Homes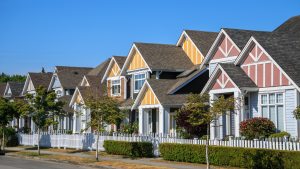 Another thing that surprised home buyers is home construction. Wood frame homes are far more common in North Florida than concrete block homes. Now this isn't to say you won't find concrete block homes in this area because you will, especially in the Palm Coast, custom homes on the ocean and older communities like
St Augustine Shores
but the majority of homes in North Florida are wood frame construction. This surprises many home buyers especially from south Florida where the majority of homes are block construction because it is more resistant to termites and hurricanes.  So why is wood frame more popular among builders in North Florida? It's basically because that is the skilled tradesman the builders have historically had access to plus it's less expensive to build a wood frame home versus a concrete block home. That isn't to say that a wood frame home isn't a well made home. Wood framed homes have strong hardware and good engineering practices to protect themselves from wind damage, plus they have better insulating capabilities than concrete block.
Exterior finishes
A common exterior finish you'll find on homes here in North Florida is stucco. This can be over a wood frame home or concrete block. If you are purchasing a home with this type of exterior, something to keep in mind is that it will require yearly maintenance to check for cracks in the stucco. It's important to have this repaired so you do not get moisture in the wall system causing further damage.
On new construction homes you will mainly see cement siding or hardy plank. This type of exterior finish has become more popular over the years due to its resistance to mold and wear, plus it's less maintenance and longer lasting than stucco.
North Florida Tree Pollen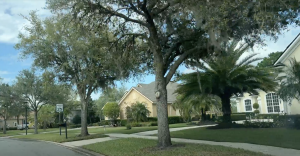 The last thing that might surprise you about North Florida is we have a lot of Oak and Pine Trees. A lot of people move to Florida wanting to see Palm Trees in their yard and we do have palms but you will also see a variety of other native trees and one thing that comes with these trees are  allergies. These trees are beautiful, providing neighborhoods with shade all summer but tree pollen is one of the most common allergens and we in North Florida rank one of the worst areas for Spring allergies. Thanks to our temperate climate, the native trees start producing pollen as early as Dec and lasts through June. These gorgeous trees also lose their leaves in the Fall so if you are not someone that enjoys raking your yard, you may want to avoid a home with these trees on your property.
Hope you found that information helpful!
Those are just a few of the things that startled house buyers in North Florida, and I'd love to hear your opinions. Was there anything about living in Florida that surprised you compared to where you previously lived? Drop a comment below.
As promised see these two videos about Flood Zones and CDD Fees. Reach out with any questions.
Thank you so much!