Design Center Upgrades to Avoid
Have you found a new community you would like to build a home in? That's great news! Now you need to start the process of choosing your model, lot and upgrades.  I'm going to give you some tips on what structural upgrades and design upgrades to avoid that can save you some money.
Hi everyone, Kim Devlin here with the Kim Devlin Team in St Augustine FL. if you've never been here before, my channel is all about the wonderful places, neighborhoods and of course real estate in the NE Florida area. If this is where you are looking, then this channel is a good place to be.
So, you found the community you want to build a home in. You toured the model, and it looks great.  The problem is the model isn't the base price that is being advertised. It's probably $100,000 more because of all the upgrades which might include top of the line quartz countertops, crown molding, upgraded appliances, built-in bookshelves or tray ceilings to name a few. These are all upgrades, and those small upgrades add up in a big way.
It's important to keep all of this in mind when deciding on options for your home whether structural or design upgrades.
After you've found the community you want to live in, you and your Realtor® will sit down with the builder's agent and go over your options at the time of contract for your new construction home. That's going to include the model, the lot and the structural upgrades.
Choose your Floor plan and Lot
First thing you need to do is figure out which floor plan you want. Every builder is different and not every floor plan will work on every lot. My advice is to choose the floor plan first. It's important to remember, the base price of the floor plan comes with standard features and finishes only.
Second thing you need to choose is your lot. Lots will vary and come in at different price points. Some will have a preserve in the back offering more privacy while others will be on a pond. These types of lots will come with a higher premium. This is then added to the base price of the home. Do you need to get a home on a preserve or pond? Well, most of my buyers like the idea of not having someone right behind them. The premium price will depend on the lot size and location within the community. If you are looking to install a pool in the future, you may need to upgrade your lot to one with more depth. On average it doesn't really matter and depending on your budget you should focus more on the floor plan and design options.
Now that you have the model and lot chosen, let's look at the optional upgrades. I'll tell you which ones I would recommend, and which ones may not be worth it.
Structural Upgrades
Let's start with structural upgrades. These are the items you will go through at the time of contract. These upgrades will be added to the homes base price along with the lot premium.
Elevation. What is the elevation? This is what the outside of your home will look like. There is always one standard elevation, maybe two, that come with every model at no extra cost. Depending on the cost of this upgrade you may want to forgo this option, go with the standard and use that money towards other structural and design options. There are some cases where upgrading your elevation is a good idea. Let's say you want a front porch because a front porch is super important to you. Maybe there is nothing you love more than sitting out front with your morning coffee.  If that's the case, then upgrade your elevation. If you are choosing an elevation just because it has some stone veneer at the bottom or cedar shake on the second story, I wouldn't recommend it. You are not likely to see a return on this type of upgrade if you go to sell the home in the future. Now there is only one reason why you may be forced to upgrade your elevation. That is if the homes adjacent or across to the lot you chose are the same model and same elevation. Builders want to keep the homes looking somewhat different from each other. If someone next to you already chose the standard elevation, then changing the elevation on your home will be required.
Covered Lanai. This isn't something that is standard with every builder and model. If there is not a covered lanai included in the model you chose, then this is one upgrade I recommend. This is essential when living in Florida, it's also much more cost effective to do it now rather than later. This will allow you to screen in your lanai very easily after you close on the property. FYI, I don't recommend screening it in with the builder, you can do it later for much less.  Now there is usually an option to extend the lanai and double the size of it. If that is an option and outdoor living is important to you. Do it!  There is value in outdoor living spaces and buyers love having a protected area for outdoor furniture and staying out of the Florida sun.
Outdoor kitchen option. I'd recommend having electric, water and a gas line run to the area where you would like to build an outdoor kitchen but not necessarily have the builder do it. You may not like the plan the builder offers. Maybe you want to plan it differently or you have a specific grill in mind. As long as you have the electric, gas and water run to the area, you can have this done afterwards, while customizing it to your liking. Definitely ask those questions first, to see what's included, before
committing to the build out.
Plumbing upgrades. It's no secret that we have hard water here in Florida so maybe a water softener is on your list of must haves. Honestly this is usually no more than $500 and totally worth it. The water in Florida is tough on fittings, faucets, appliances, and your glass shower enclosure as well. Having this as an option is a good one which will add value too. Maybe you'd like a sink in the laundry room. Having this plumbed with a standard slop sink is the cheaper way to go and I think more cost effective than having the builder put in the cabinetry. Do your research first on what it would cost for a standard cabinet with a sink at Home Depot. I've seen builders charge thousands for a simple cabinet and sink that you can probably do for much less afterwards, but the plumbing is definitely something you will want to add if a sink in the laundry room is a must have.
Electrical upgrades. Most builders have you decide this during the first appt and consider it structural and some builders will have you choose this at the design center. Either way, this is an important area to consider. The house will come with standard lighting usually recessed in the kitchen and living area. There will also be pre-wires in all the rooms to add ceiling fans or light fixtures, but you may want more lighting and I recommend doing so at this appt. You can add 2 or 4 packs of recessed lighting in your living room, master, den and anywhere else you want them. Buyers love a well-lit home, and it is easier to add now then it is later. If you want dimmer switches this is something you can easily add yourself after you close, but if the cost is comparable to do it with the builder then definitely do so.
Gourmet kitchen. If you absolutely love to cook and must have your wall oven, go ahead and add it. If not, just go for the standard kitchen with your all-in-one stove range combo appliance. With most builders, if you upgrade to a gourmet kitchen you are having to automatically upgrade the cabinets too and this can get costly. If you want to upgrade your appliance instead you can certainly do so for a lot less than a full gourmet kitchen upgrade. If you do have a budget for this upgrade, it is much less expensive than a kitchen remodel later.
Walk in shower upgrade. This is a must upgrade if you need to change a standard tub in your bathroom to a walk-in shower. If you have someone that will be living with you that cannot step over the tub, make this upgrade during this appt.
Tray ceilings. If the model you chose comes with standard 10 ft or higher ceilings, don't waste your money adding tray ceilings. If the standard is 9 feet you may want to upgrade the living room and maybe your master to give it a grander feeling, but I don't see a lot of added value in a tray ceiling overall.
Optional Square Footage. If you want to add an optional bedroom or 3rd car garage, this is the time to add it. Alot of these floor plans will have the option for, let's say, a flex room or 4th bedroom. This is definitely something you will need to add at the time of contract to avoid change fees with the builder later. Once your home plan is approved and the builder has the permit there are no changes that can be made. And keep this in mind for future resale. If you had to choose between a flex space or a bedroom option, a bedroom will always have more value in resale because it has a dedicated closet and can be used as an office or bedroom if needed for a future buyer.
So, these are the structural upgrades to consider when you sit down to write the contract. Now let's head to the design center and see where you should focus your upgrades and where you can save some money.
New Construction upgrades
First thing you must do before going into the design center is make a list of your must haves. Then do some research online prior to going into your design appt. Look into what the prices of lighting fixtures, faucets, countertops, flooring, etc. are at your local home improvement stores. More importantly, know what you like. This way you can compare it to the options which are available at the design center. These options come at a premium, so always look at what the cost is at the design center and what the cost would be if you did it on your own. This will help you decide which upgrades you want to do at the design center, and which upgrades you will complete in your own time.
Keep in mind that it is very easy to get carried away at the design center. Everything is shiny and new. You are going to want to upgrade everything when you are there. It's really important to stick to your list or you'll drive the price of your home up very quickly.  I'm going to give you some items to focus on and some tips on where you can save money to use elsewhere.
First thing you'll want to focus on is your flooring. The main living areas will normally come with a hard surface, level one flooring. This could be tile or laminate. Typically, you will want to upgrade this to a higher level. Either a nicer tile or a luxury vinyl plank, maybe even wood. This is definitely something you should do. If I had to choose one, it would be the vinyl plank. It's low maintenance, it's forgiving on your joints and there are so many style options. Flooring will get the most wear and tear so choosing one that will do well over the years, has a classic look and won't go out of style, is key.  If the main area is carpeted, you may want to consider doing the upgrade afterwards on your own since carpeting is fairly easy to pull up.
Your bedrooms will come with standard builder grade carpet. If you don't have the money to upgrade these rooms to match the flooring in the common areas but you like carpet in your bedrooms, then just take the standard carpet. I would recommend upgrading the carpet pad so it's more comfortable and feels more luxurious. This is something you can easily upgrade later and at a low cost.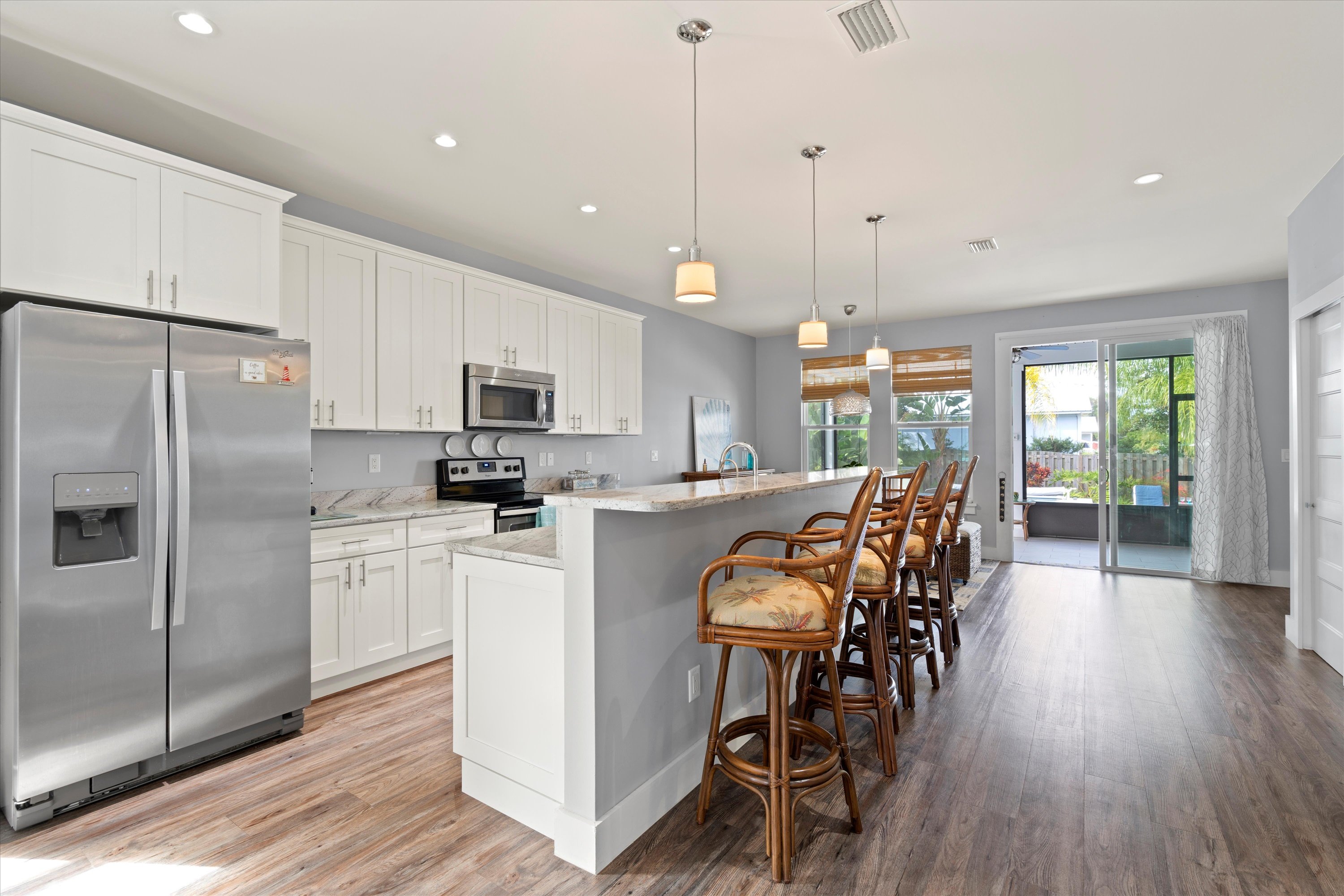 Second thing is your kitchen. Let's face it, it's the heart of the home so you definitely want to use your design funds here. If the builder is offering 30-inch standard upper cabinets, definitely upgrade to 42-inch. Not only do you get more storage, but it looks much better. These cabinets will come in standard colors which are always in wood tones. If you want a painted cabinet such as white or gray, do that upgrade. However, if you need to save some money and there is a center island, choose a standard color at no added cost for the base of the center island. Then upgrade the wall cabinets to the painted color you desire. It'll look beautiful and save you some money to use elsewhere.
And let's remember that your master bath should be upgraded to your liking as well. Upgrade your cabinets, counters and maybe even your flooring too. When it comes to the other bathrooms, consider some of the standard options for cabinetry and countertops. This way you save some money to use elsewhere.
Now let's just go back to countertops. Your standard options are likely granite or quartz. Leveling up will get you more options with different veining, patterns and colors. If you want to upgrade your counters I recommend focusing on your kitchen and master bath while considering the standard options elsewhere.
The next thing to consider is your lighting and plumbing fixtures. When it comes to lighting fixtures, ask yourself if you can get something just as nice at your local home improvement store. If you determine that the cost is not much different, then go ahead and get that light fixture at the design center. Same goes with plumbing fixtures, if you want gold fixtures or oil rubbed bronze, what is the price difference at the design center vs your local store.
Keep in mind that if you go with standard options and make these changes afterwards you may need to hire a plumber or electrician. That is an added cost which may not be worth it at the end of the day. So do your research before going into your appt.
These are just some of the tips I want to give you when going through your structural and design upgrades. There are so many available options to upgrade your home. You need to figure out what your budget is, what's most important to you and what items you can take care of later. If there are any items I may have missed that you want to discuss, just give me a call. My number is in the description below.
Buying new construction can be an overwhelming process but it doesn't have to be. As long as you go into it with good guidance and research beforehand, you'll be OK. If you have questions, you know where to find me. I'm always happy to help. Thanks for tuning in and I'll catch you on the next one.