Do you want to know about a cool spot to spend an afternoon that happens to be one of my personal favorites?  The Alligator Farm!
To some it may seem like a little roadside zoo, but it has actually been around for a very long time and has a little bit of history to go with it!
The park began in 1893, on St. Augustine Beach, as an insignificant attraction at the end of a railway which ran through Anastasia Island. The alligators were added simply to peak visitors' curiosity and get them there to buy souvenirs and see the museum. Soon, the reptiles themselves became the main focus of this now significant attraction.
What to See at the Alligator Farm in St Augustine FL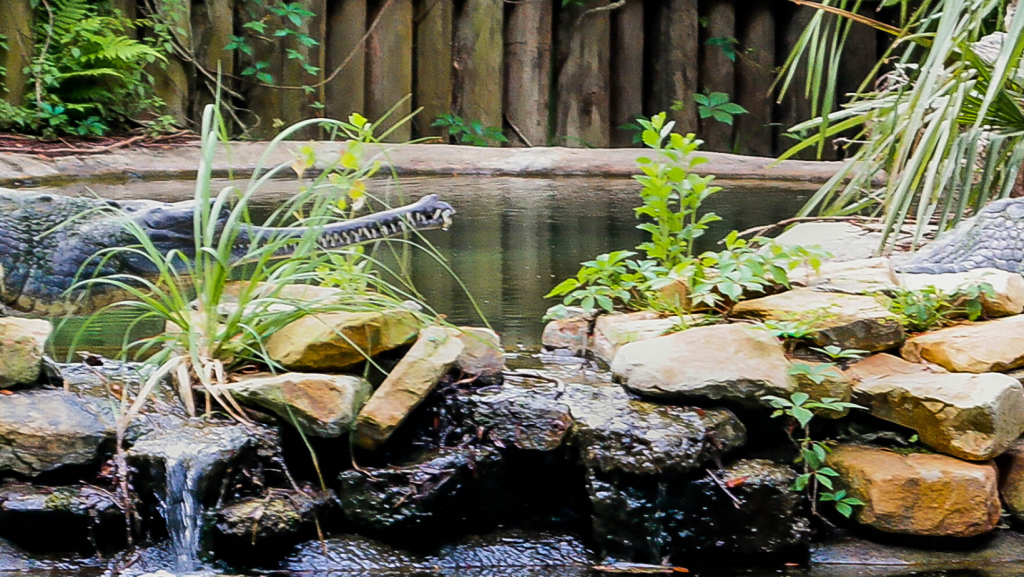 The Alligator Farm was famous by the 1970s. As popularity grew it expanded to include a theatre, an outdoor amphitheater for educational events, and an outdoor boardwalk that leads to a rookery. It's here, in the midst of beautiful Florida trees, that visitors can view Florida's wild birds, including herons, egrets, and spoonbills. Below the trees, filled with all our stunning Florida native birds, is the Alligator Lagoon. A swamp-like pond with what feels like hundreds of alligators, right below your feet.  For only a quarter you can get some feed to toss over the railing – these guys LOVE IT!
ATTRACTIONS & EXHIBITS
Over the years, the zoo has expanded even more to include additional exotic species such as monkeys, birds, two Komodo dragons, and even the rare Prevost's squirrel.
Exotic Birds and Mammals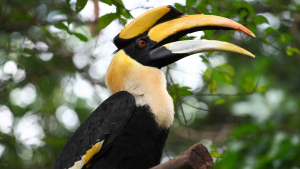 The Alligator Farm is home to a bird collection that boasts some species not often seen in other zoos. You can catch a glimpse of hornbills, cassowary, marabou, vultures, and parrots. There is even a small flock of Ostriches.  These big birds have been a part of the St. Augustine Alligator Farm since the 1930s!
Sloth Landing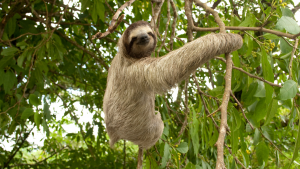 All ages will love visiting the mammals here too.  From the swinging ring-tailed lemurs to the tiny marmosets. Don't miss out on the newest addition to the menagerie – THE SLOTHS! The sloth family just welcomed a new baby and has become one of the most popular residents since they arrived in 2019.
Albino Alligators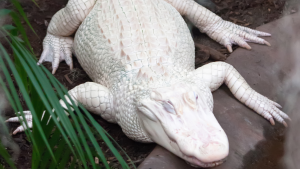 But of course, the pride and joy of this zoo are its beloved Alligators. Numerous species from Florida originally reside here, along with their international cousins. Be sure not to miss the unique Albino gators, or the baby Albinos that were recently added.  Needless to say, there is no shortage of gators lounging around their watering holes or sunning themselves.
If the idea of living near hundreds of alligators intrigues you, I would be happy to share some of the best neighborhoods nearby! Just imagine hearing the calls of the birds and monkeys every day from your backyard!
Land of the Crocodiles
Along with the alligators, visitors can wander through the "Land of the Crocodiles". This exhibit houses every type of crocodilian that exists in the world and is the only zoo with all known 24 species in one place.  Pretty impressive if you ask me!
Not only will the whole family enjoy visiting with the animals and learning about their biology and habitats, you will find that the Alligator Farm offers so much more. This attraction is truly an immersive experience!
Plan your visit around the daily wildlife shows which include training demonstrations, interacting with snakes and birds, and feeding time for the gators. Some days, zookeepers will be out and about in the crowd to offer baby gators that make for an awesome photo opportunity.
Gomek Forever
And don't miss out on the wild and wonderful exhibit showcasing "The Legend Of Gomek"! Coming in at 2,000 pounds and an astonishing 18 feet, Gomek was the largest gator to reside at the zoo. After his passing,  his keepers lovingly preserved him for all guests to admire. His special house is filled with rare art and artifacts from his homeland of Papua New Guinea. Plus a few living friends that crawl, slither, and climb about in their little habitats.
For a very special experience, you can arrange for private tours including direct contact with some of the animals! Chill with the Galapagos tortoises, hang out with the sloths, Teddy and Grizzly, or get an up-close view of feeding the behemoth "Maximo" – a 15-foot, 1250-pound saltwater croc from Australia. All guests of the park can visit Maximo through a unique underwater cave, but only the special few can be right there when he gets his lunch!
Zip line over the Alligators
If you crave adventure and are brave enough, you can zip line through the park! Thats right, swing directly above the gators all while trying to complete an obstacle course. There are currently two courses, one for the younger kids and a more difficult course geared for older kids and adults. They both give you a unique view of the park and a chance to experience life in the trees!
There is also a playground for the very little kiddos and even a party area so you can host a birthday party. They offer a "dig site" set up for the little kids to discover fossils during their visit. If you get hungry during the day, don't fear – they do have a food court with snacks, drinks and ice cream.
Events at the Farm
The Alligator Farm offers events such as Homeschool days, Zoo Nights, Field trips, and Zoo camps, in addition to "Croctober Fest", a great Halloween event with trick or treating.  If that wasn't enough, they also host the 3k "Raptor Run" which benefits local conservation efforts. Not to mention an annual Photo Contest showcasing the birds of the rookery.
Conservation
The farm is very involved with the local community. They make sure to work with other zoos and organizations to promote the conservation and research of endangered species. For over forty years, researchers from the University of Florida have worked in and with the zoo.  Their main goal is to better understand alligators, other reptiles, birds, and mammals with firsthand observation.
Many of the reptiles, mammals, and birds here are "Critically Endangered" in the wild. Experts within the park are dedicated to providing a safe haven for these animals in addition to working towards a better chance for their survival in the wild.
I hope this inspires you to check out this historic gem of St Augustine! The Alligator Farm is a lot of fun and offers a wealth of education for kids and adults alike. If you are heading to the area for vacation or moving to town, definitely put this on your to-do list! Be sure to go online and check the schedules so you don't miss out on all the amazing stuff they have going on.
If you have any fun stories from your visit to the Alligator Farm, be sure to drop a comment below. Until next time… See ya later alligator!