Popular St. Augustine-based datil pepper hot sauces on sale at grocers around Florida 
Whether you live in Orlando, Orange City, Ocala, Oviedo, or Ocoee, you can now get your hands on the popular St. Augustine-based datil pepper hot sauces created by A Frame Sauce Company. With three flavors respectively (flagship A Frame Datil Pepper Sauce, Double Barrel Hot Sauce, and Super Session), A Frame Sauce Company products are now available throughout the State of Florida including hundreds of Publix Super Markets and Whole Foods Market locations.
"This venture started with a few datil pepper seeds in a backyard garden," explained Scott Herlihy, co-owner of A Frame Sauce Company. "From seed to peppers and then a sauce recipe, we've been in business for seven years and having our products in two major retailers is a dream come true. We're just now planting roots and looking forward to growing statewide and, eventually, nationally. But we definitely need to let it be known that our growth would not be possible without all of the local support here in St. Augustine from restaurants and retail outlets that have believed in our sauces."
Founded in 2012 by Herlihy and fellow Flagler College alumni and soccer player, Caleb Cooper, the two longtime friends have been busy building their brand around the Sunshine State. Their flagship sauce, A Frame Datil Pepper Sauce, has been in Publix in 2018. Earlier this year, Publix brought in their Super Session sauce for their "Florida Local" program and Whole Foods recently launched their flagship and Double Barrel flavors.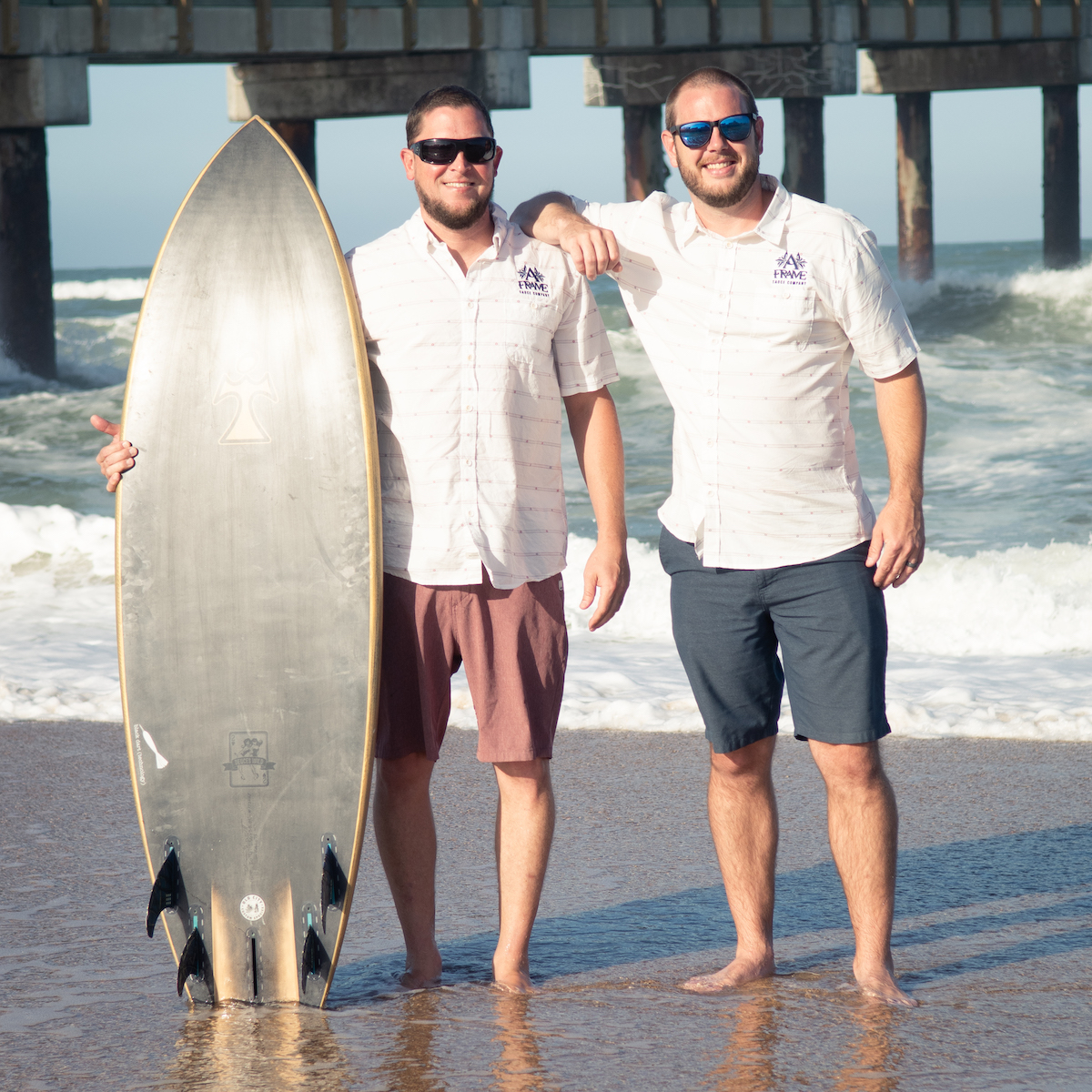 In each of the three sauces, the little-known datil pepper is at the forefront of the flavor. A small hot pepper found in abundance in St. Augustine, but rarely found in other parts of the Southeast, the datil pepper was brought to the nation's oldest city in the late 18th century by indentured workers from Menorca, Spain – making it an influential component in local Minorcan culture and cuisine.
"For me, this all comes down to a friendship that's spanned over 18 years," said Cooper. "From playing soccer together at Flagler, sleeping on park benches in Amsterdam, living in Nicaragua, and trying to start three businesses together that never made it off the ground, I think having experiences with someone matters. Scott and I have always tried to challenge each other in ways that make improvements to what we've built over time."
About A Frame Sauce Company ~ Founded in St. Augustine, Florida in 2012 by co-owners Caleb Cooper and Scott Herlihy, A Frame Sauce Company products include flagship A Frame Datil Pepper Sauce, Double Barrel Hot Sauce, and Super Session. The sauces are available for purchase online at aframesauce.com, at dozens of brick and mortar locations around Northeast Florida, as well as hundreds of Publix Super Markets and Whole Foods Market locations throughout the State of Florida. For more information regarding wholesale opportunities, call 904-657-0136 or email [email protected]. Follow along on social media @aframesauce