Where is St Augustine Florida?
Some people have never heard of St Augustine. On the occasion, the ones that have, don't really know exactly where it is. So today, I'm going to tell you where it is and why it's gained a lot of attention over the past couple of years.
So where is St Augustine? It's located in Northeast Florida on the Atlantic Coast. This area is called the First Coast because it was where Pedro Menendez landed in 1565, 55 years before the Pilgrims. It's the Oldest Continuously Occupied City and Port Established by Europeans in the Continental United States.
St Augustine is located in between Jackosnville to the north and Daytona to the south. We are definitely smaller than these two cities with about 15,000 in population. St Augustine expands past the city district to the beaches on Anastasia Island, west to the World Golf Village area, south and north within St Johns County.
Since we are located in North Florida the weather will be cooler in the winter months and the lows can dip into the 30s at times but the average is about 65. Of course, in the summer. It's hot, It's Florida and temps average 88 degrees.
When traveling to St. Augustine, the closest major airport is Jacksonville, which is about 1 hour away. Daytona is next at about 1.5 hours and then Orlando would be the largest airport at about 2 hours. We do have a municipal airport where Elite Airlines will fly into from limited airports, including Newark NJ and Portland Maine.
One reason St Augustine is amazing is because we have 42 miles of beautiful beaches. The pristine coast extends from Ponte Vedra Beach to St. Augustine Beach and south to Crescent Beach.
Each beach is a bit different. North of the St Augustine Inlet, you'll find a coarser sand but deeper water for swimming. South of the inlet, the sand is very fine and there is a larger beach for biking and walking at most tides. Check out this video to learn more about each.
Another thing to note is St Augustine has an inlet to the ocean. This makes it very easy for boating, allowing the sport fish to get out to deeper water for fishing and boats cruising south for the winter to get out of the slow pace of the Intracoastal Waterway.
St Augustine is surrounded by rivers. You have the Tolomato River running from Ponte Vedra down to the St Augustine inlet, which then becomes the Matanzas river. You will also find the San Sebastian river, which connects to the Matanzas west of downtown as well as many creeks, making this area great for fishing, day boating, kayaking and paddle boarding. You can definitely say that St Augustine is boat friendly with a number of marinas, moorings, and anchor spots.
If you are not a boater but love to golf, St Augustine features a variety of golf courses. King and Bear and Slammer and Squire in World Golf Village and Marsh Creek Country Club are all on the island.
St Augustine does not lack culture. We have a lot to offer for such a small little city, from a number of art galleries around town. The Limelight is a small theater located uptown and puts on shows year-round, as well as smaller venues with comedy and improv shows.
For music, we have many options. My favorite is the Amphitheatre which is a wonderful outdoor music venue as well as Colonial Oak and so many other smaller venues around town, you will never have a problem finding live music in St Augustine.
Let's not forget dining, we have so many options from southern cuisine, to seafood and from Asian to Latin American. St Augustine was proclaimed Southern Living's Best in 2019 in their "The South's Best Food Town Issue".
It's also worth mentioning that our city has many locally owned businesses. Which is one thing I love about St Augustine.
If you are a sports fan, St Augustine doesn't specifically have any major leagues in our little city but we do in Jacksonville, where you can watch the Jaguars for some football and the Jumbo Shrimp for minor league baseball.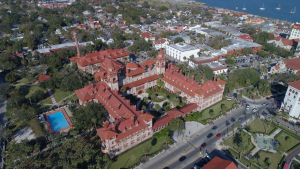 When it comes to Florida, people assume it's a state for retirees. That's not the case in St Augustine. St Johns County has the best schools in the state so the area attracts a lot of young families. The historic downtown area has Flagler College. Many students graduate and create a life for themselves here, opening up businesses and raising their families. So, it is a vibrant area with lots of things to do.
If you have never visited the area and would like to learn more about it. Check out my relocation guide and locals guide. Feel free to call me with any questions.