Saint Augustine, Florida – The Bad, the Good, and the Quirky 
No place is perfect, but St Augustine comes pretty close. But with the good comes the bad and that's what we are talking about today so let's get to it.
Hi everyone Kim Devlin with Your Key to St Augustine and REMAX Leading Edge. Thanks for joining me! Today I am going to tell you my first-hand experience of what I love about living In St Augustine, what I don't love so much, and a few unique quirks of living here… so let's get to it.
I love living in Florida, I love the weather is warm and the endless things to do outdoors, I love the laid-back attitude, and of course the beaches. I've traveled all over Florida and for me Northeast Florida is the best. Today we are focusing on the St Augustine area. This area has changed a lot in the last few years. What used to feel like a quiet little seaside town seems to be bustling all year now.
So What is good, bad, and a bit quirky about living here? Well that's what I'm going to tell you.
#1 – It's A Vacation Destination
Florida itself is a hotspot for vacationers and the sweet little city of St. Augustine is one of the most popular destinations in the state. People love the historic old town, full of charming shops, great restaurants and seasonal events. Visitors also love the wide, soft sand beaches – especially where you can drive on and set up camp – and fun places to explore like the "haunted" lighthouse, the Alligator Farm, and tons of concerts at The Amphitheatre. As a local, you are near all these amazing features year-round and will only have trouble deciding between which event or adventure to check out for the day.
While being a popular vacation spot has definitely made our local economy more robust thanks to the tourism, this has been at certain costs to the local lifestyle. The massive growth of the tourism industry in recent years has made it more difficult for locals to always enjoy these great features St Augustine has to offer. We are a hospitable town and love hosting guests, but many locals get frustrated by the increased traffic and high volumes that lead to long wait-times at restaurants and the impossible task of finding parking downtown or by the beach. There has also been a big increase in hotel construction and vacation rentals, which has caused a lot of protesting from neighbors who are now dealing with spring-break party goers and inflated prices.
But in a quirky twist, the "slow" tourist season of September which is of course the hottest month of the year is just for the local's. During this month residents get free or discounted fees to the museums, tours, and experiences, and enjoy the Sing Out Loud Festival – a city-wide music showcase of local talent and national headliners! The latter is actually pretty darn awesome
#2 – The Weather
They don't call it "The Sunshine State" for nothing! Florida of course is one of the most tropical climates you can find in the U.S. and North East Florida offers a unique variety of the seasons. The weather here is cooler in the winter and our summers aren't as unbearable as you deal with in south Florida. I personally love this coming from the Northeast. I like the change to cooler weather in the winter, especially during the holidays (oh speaking of the holidays, if you've never visited during the winter season be sure to check out my video on the Nights Of Lights and start planning your trip!) (Left hand point)
Now back to weather. I love this time of year mainly because it is quieter. You might not head to the beach and get into the water without a wetsuit, but it's a lot easier to find parking and take a nice stroll. The pups love it too. Who am I kidding the pups love it all year. Spring and Fall are the best for comfortable beach weather and the summer is of course hot which leads me to the bad.
While we get to cool off in the winter, St. Augustine does get quite toasty in the summer months. Humidity is high and if you are not sitting by the beach with the breeze or safely tucked away in the A/C, you are going to get hot. We also have the rare but very possible threat of hurricanes and tropical storms. And during the fall and winter months, mother nature may send some Nor'Easters our way bringing high winds, rain and dropped temps. Coastal streets can flood when one comes our way but it still way better than being up north and dealing with the snow. An remember you St Augustine is large and the areas west fair these types of storms much better.
So here you never have to worry about shoveling snow, but you may need to prep for a tropical storm once in a while, and ladies your hair is going to be uncontrollable in the summer months, but probably the quirkiest weather we get in St. Augustine is in the spring months, when you can start the day bundled up, by noon be in your shorts and it's basking in the warm sun and sometimes get a passing thunder storm too, so you pretty much experience all of the seasons in 24 hours that time of year
#3 – Endless Day Trips
St. Augustine has great proximity to a lot of fun nearby towns and excursions. If you want to get out of town for a day, you're an easy drive to Jacksonville, Amelia Island, or Daytona, with plenty of great stops in between.  Hit up Jacksonville for concerts and game days. Fernandina Beach is perfect if you are looking for a day in another small city. I love Fernandina so stay tuned until the end and I'll share a tour of this quaint little town. An hour south is Daytona if you're into fast cars and motorcycles. If you prefer to be in nature you have dozens of options for some excursions nearby, like the Bulow Plantation Preserve, Princess Preserve, the GTM and Ginnie Springs park.
If you're up for an overnight stay or long weekend getaway, you're only a couple hours away from the magic of Disney World, or head 3 hours north to historic Savannah, Georgia.
So What's the negative? While you have a lot of nearby adventures, the closest commercial airports are both an hour or more away in Jacksonville or Daytona. Plus you're looking at a solid 5 or more hour drive to the Gulf Coast or down to Miami and The Keys. As the county grows we can hope for some more public transportation options and hopefully more flights to other hubs, but if you are a frequent out-of-town traveler you will have to put in some effort.
So just like these other local towns are day trips from St. Augustine, folks do day trip TO here. You'll notice a lot of day trippers especially during "Bike Week" in March and "Biketober Fest" in October, when the Harley Davidson riders roll through town to and from Daytona. The seasonal festivals – especially Nights of Lights- also bring in even more day trippers and make that problem of tourist traffic even worse!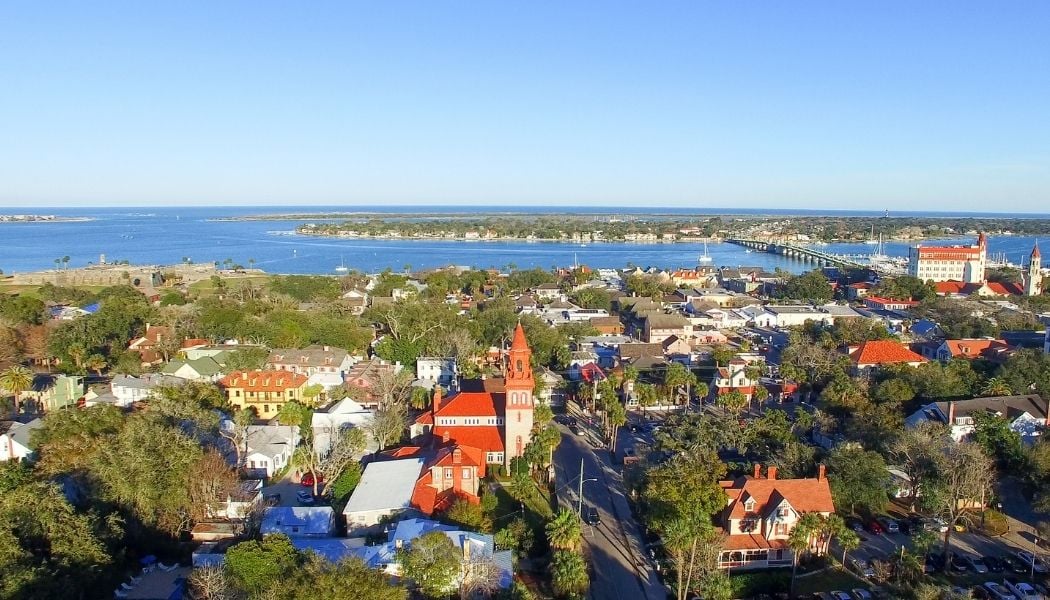 #4 – Growing [Pains]
St Augustine and surrounding St Johns County have grown exponentially in the last couple of years. There is a lot of new construction communities with several phases planned and being built all over the county. Even on Anastasia Island, you will see homes going up on any empty lot, and people are moving here in steady numbers from around the country. Guess the word is out on how great this place is!
Now I love that there are so many people from different areas moving here, it's always fun to meet new people, it's great that they see the area as a desirable one. With the increase in residents we are seeing commercial development too such as a new Buccees, plans for a Costco, new grocery stores, and new schools. With all of this we can certainly expect more industry and job opportunities arriving. Now some do find the rapid development a bit overwhelming, especially since this area has been slow to develop over the years and now it feels like development is everywhere
So whats the bad? With this population growth comes you know what. Traffic. Now coming from NY this traffic still doesn't compare but it's definitely more congested than in years past. This problem is especially apparent in the older areas of St Augustine, where the streets are narrow and the infrastructure can't quite handle it.
If you are moving here from a congested area, keep in mind that you're on beach time now: take it easy and be a courteous driver, or you'll not make any friends with the native Floridians!
The development and population growth has also had a good AND bad impact on local real estate values. Of course the average price for existing homes has increased, which is wonderful for owners who have equity, but the rising cost of housing is limiting options for younger families and service-industry workers. Many feel that The City and County have to work on affordable housing options so that there are enough workers and diverse communities to keep this expansion going in a smart and responsible manner
(Now for the Quirky)
In some areas you'll find a real mixed bag of old and new. I think this makes for a more interesting community, but it can be funny to see a multi-million dollar new construction home juxtaposed to it's 100-year old bungalow neighbor! I dig it but some may not.
—
So these are my good, bad, and quirky perspectives on living in St. Augustine. As promised check out my next video for a tour of Fernandina. If you have your own experiences or perks to share, drop a comment below. If you're thinking about relocating here, be sure to check out my free guide in the description below.
Thanks for tuning in and I'll catch you on the next one