Meet Melanie Neale of Sunshine Cruising Yachts, she grew up on boats and has lived the boating lifestyle for most of her life. It's no surprise she found her true passion in helping people fulfill their own boating dreams.
You've been on boats your whole life, tell me how it was growing up as a live-aboard?
I was basically brought to the boat as a baby straight from the hospital. My parents commissioned a 47 Gulfstar SailMaster in 1979, the year I was born, as the boat they'd raise their family on. I spent seventeen years sharing the v-berth with my sister. We were based out of the Chesapeake most of the time, but went to the Bahamas in the winter and up and down the East coast in the summers. We were homeschooled from kindergarten through high school. I moved off the boat at nineteen years old and the first time I stepped into a classroom was my first day of college.
Did you find it difficult to move off the boat and enter the "Real World" in a sense?
No, I didn't. I was exposed to so much growing up through our travels. I learned to relate to people from different countries and cultures, so I didn't find it difficult at all.
Was there ever a time that you didn't live on boats?
Yes, I did live on land during a time in my life when it felt right. I wanted to do the normal thing, have a house, picket fence, 2.5 kids. I had a corporate job for about 10 years, I had a daughter, and a nice husband, but we divorced in 2014 and I was laid off in 2015. I found myself a single mom, unemployed with a child and a lot of useless knowledge about boats. That's when I decided to get my yacht broker's license and start selling boats under a local brokerage.
When did you decide to go out on your own and start Sunshine Cruising Yachts?
I had been working under the other brokerage for about four years and started thinking about going on my own six months to a year ago. The process to start the brokerage was fairly simple business. I'm good at listing and selling boats, but there is a learning curve with any new business and this is no different.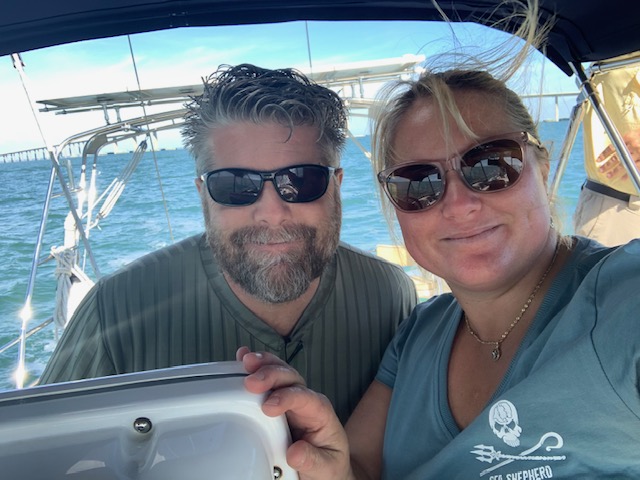 To own a yacht brokerage in the state of Florida, you have to have a brick and mortar office. In walks Dennis…We had just started dating, and it just so happened he had an office on the Palm Coast where his team worked in Real Estate. Since we had just met it was hard for me to open up, trust him, and allow him to help me, but he has a huge talent in marketing and video production, and has become a big asset to my company, so we are in the process of getting him licensed now.
How is the business going so far?
We launched Feb 5th and right now it's a beautiful chaos. It was the right time for me, and I couldn't be happier. It was supposed to be a business of two—I had a partner who decided that this wasn't the right move for her at the moment. It would have been easy for me to change my mind when I discovered she wasn't joining me, but I went with it anyway and did it on my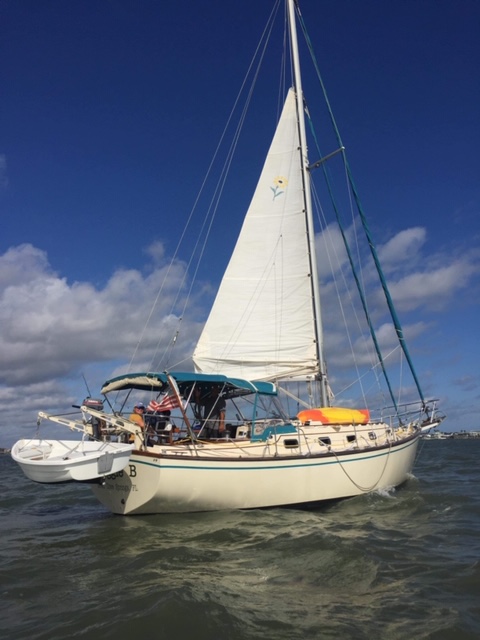 own. The business started as one, just me, and now we are at five people. We've partnered with brokers in Connecticut for the New England area, someone in the Chesapeake and now I'm looking into the Chicago area to handle the Great Lakes and working on partnerships in South Florida and other areas.
I know a lot of people in the business and I'm trying to partner with people strategically where there are a lot of boats and with people that know the industry.
As chaotic as it's been—and there will be growing pains when you start any business—I've never felt that I made the wrong decision. I'm pinching myself almost every day because I get to go sailing for work.
What makes Sunshine Cruising Yachts different from other brokerages?
Having grown up on a boat, I can give people a true look into the boating lifestyle. I want to educate people on boats. I want to go beyond listing and selling. I want to form everlasting relationships and be the "Boat Girl" people call when they need help.

What are your plans for the business?
I want to create a legacy in this industry and to empower women in the marine industry. This industry is less than 10% women, I've always done a lot to get women involved in the industry, I started the Facebook group "Women Working in the Marine Industry," I want to continue to inspire women with my business. Including my daughter, she sees me work, she knows what I do. She is growing up on a boat and I want to set an example for her to show her she can do whatever she wants in the future.
What is Sunshine Cruising Yachts mission?
Selling a dream and a lifestyle that I believe in 100%. I feel really lucky to be able to do that.
Do you ever plan to cruise?
The dream is for this company to be up and running and successful so in ten years (or less) I can go cruising and work from anywhere.