Discovering Lakewood Pointe: A Beach Lover's Paradise in St. Augustine
Imagine living just a five-minute drive from the beach and envision starting your mornings with a stunning sunrise or taking leisurely afternoon strolls with your dog along the shore. Sounds like a dream, right? If you're a beach enthusiast, I've got an exciting community to share with you. Welcome to Lakewood Pointe—a gated oasis, conveniently located and outside flood zones.
A Quick Drive to a Beachside Haven
Today, we're taking a scenic drive just five minutes west of Crescent Beach to explore the charming gated community of Lakewood Pointe. Not only-but also, I'm thrilled to introduce you to our new listing at 64 Coastal Hammock Way. Let's embark on this journey together.
Lakewood Pointe: A Closer Look
Nestled off of Rt 206, Lakewood Pointe is more than just a DR Horton Community. It's a collection of seventy-eight homes spread across forty acres, centered around a picturesque lake. The homes, ranging from 1798 to 4099 square feet, were primarily built between 2016 and 2018. The community offers a lakefront park, complete with a dog park, playground, and gazebo, all for a modest HOA fee of about $91 a month. With home prices ranging from $500k to $700k, finally there's something for everyone.
Featured Listing: 64 Coastal Hammock Way
Our new listing, 64 Coastal Hammock Way, is a testament to modern living in Lakewood Pointe. Built in 2018, this 1856 square-foot home boasts four bedrooms and two baths, with an asking price of $519,000, and comes with a rate buy down incentive. First, the split-bedroom layout, with the master suite tucked away for privacy, offers an ideal balance. Second, the heart of the home features wood plank tile flooring with an open-concept design, combining the kitchen, dining, and living areas. Third, the kitchen is a chef's dream with quartz countertops and ample cabinetry. And stepping outside, the screened lanai is perfect for entertaining. Added perks include hurricane impact windows in the master suite, custom closet built-ins, and cement siding.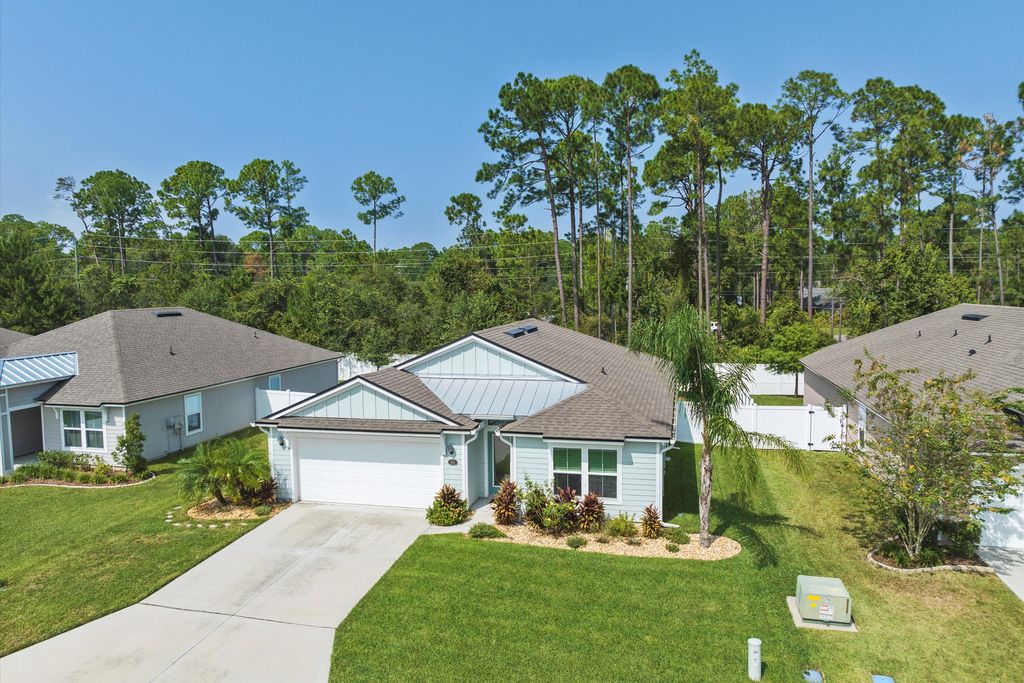 Living in Lakewood Pointe: Beyond the Home
What's more? Situated in a flood zone X area, Lakewood Pointe relieves the worry of flood insurance—a significant consideration for many homebuyers. The 1% rate buy down for the first year and a $2500 lender credit make this an even more attractive proposition.
Dining and Entertainment Nearby
Lastly, concerned about being too far from the action? Lakewood Pointe is just minutes away from fantastic dining options. Enjoy local favorites like mouth-watering smoked turkey and brisket at Smoky D's or explore the diverse culinary scene along A1A, including Safe Harbor and Elk House in Crescent Beach.
At $519,000, this move-in-ready home offers a peaceful, gated community lifestyle, and less than five minutes from the beach. Are you intrigued? Contact me for more details on the rate buydown incentive or to schedule a showing. Share your thoughts in the comments, and click the link in the description for more information.
Thanks for joining me on this exploration of Lakewood Pointe. Moreover, I'm looking forward to connecting with you and helping you find your dream home in this idyllic community.