Save the Date! The 39th Annual Seafood Festival will be held March 20 through 22
Old City PR, Kara Pound  – The St. Augustine Lions Club is proud to announce the dates for the 39th Annual Seafood Festival, which will be held in the Ancient City March 20-22, 2020. The beloved festival is the primary fundraising event for the St. Augustine Lions Foundation each year, generating hundreds of thousands of dollars for local organizations. Providing services to the community with a focus on youth, the deaf and blind, disaster relief, veterans, and so much more.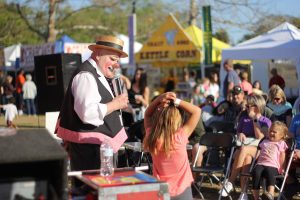 Founded in 1981, and with more than 25,000 people expected to attend in 2020, the Seafood Festival is the largest, oldest, and most family-oriented festival in St. Augustine.
The primary draw of the Festival is its abundance of seafood and great live music. Other attractions include kiddie rides, fun activities, family shows, and an Arts & Crafts village with nearly one hundred affordable arts and crafts exhibitors. "We're very excited to announce the dates for 2020," said Dominic Mercurio, Festival Chairman. "This is truly a community event and local Lions, whose motto is 'We Serve,' are able to raise the funds needed to fulfill our claim that 'Where there is a need, there is a Lion.' We invite everyone out to Francis Field to join us because 'We're Havin' Fun Now!'"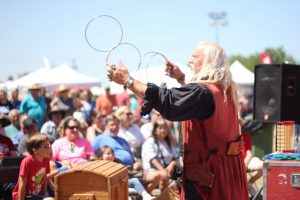 Hours and Admission: Francis Field is located at 25 W. Castillo Drive in downtown St. Augustine. Festival hours are Friday March 20 from 3 p.m. to 9 p.m., Saturday March 21 from 10 a.m. to 9 p.m., and Sunday March 22 from 11 a.m. to 5 p.m. The Arts & Crafts village closes at sundown. Admission is $5 for adults. Food is not included with admission. No pets allowed except service animals.
Free Parking and Shuttle: Shuttles will pick up and drop off visitors on Saturday and Sunday only at locations to be announced. More information on parking and shuttle are on the website lionsfestival.com and Facebook @staugustinelionsfestival
About the Lions Club: With more than 1.4 million members in more than 206 countries and geographic areas, Lions Club International is the largest and most effective service organization in the world. The St. Augustine Lions Club raises more than $100,000 each year to support worthwhile community projects, and since 1981 it has raised well over two million dollars. A 501c3 nonprofit organization, the St. Augustine Lions Foundation and St. Augustine Lions Club also conducts thousands of free vision screenings of local children each year and provides support to many local organizations. Visit www.staugustinelions.com  
Photo Credit Madi Mack