My gal Donna Wagner from Welcome to Essential Oils has some great info to share on staying healthy this winter with a little help from Young Living.
Did you know research has found that people who consistently use quality essential oils have a higher level of resistance to illnesses, colds, flu, and diseases? Further indications show that such individuals, after contracting a cold, flu, or other illness will recover 60-70 % faster than those who do not use essential oils!
Here are some tips you can try to keep the flu away from your and out of your house. Before and during cold/flu season, try diffusing any one of these immune-supporting Essential Oils ~ Thieves, German Chamomile, Oregano, Peppermint, Eucalyptus, or Rosemary. You can add a drop of Orange or Lemon for a nice top note smell.  ~~ And don't forget to diffuse Lavender while getting much-needed rest.
Spotlight Essential Oil "Thieves"
Thieves essential oil blend is a powerful combination of Clove, Lemon, Cinnamon Bark, Eucalyptus Radiata, and Rosemary essential oils and is a popular choice among essential oil enthusiasts. Sources recommend Thieves essential oil for colds and flu symptoms because of its antibacterial, anti-infectious, anti-viral and antiseptic properties. It is known to aid in eliminating symptoms from colds and flu quickly. It works wonders in combating chest congestion, stuffy noses, sore throats, and reducing fever. I have already started to diffuse these oils in my home!
Here's a little background on Thieves®
Thieves® essential oil blend was inspired by the legend of four 15th-century French thieves who formulated a special aromatic combination composed of clove, rosemary, and other botanicals they used while robbing the dead and dying during the Black Plague.They were eventually caught and in exchange for more lenient punishment they disclosed the formula they used. Young Living's one-of-a-kind Thieves blend, crafted in the spirit of that the legendary combination can be found in all of our Thieves products.
Thieves and our plethora of Thieves products, provide both wellness support and the power to care for your home without synthetics or harsh chemicals.
AROMATIC PROFILE
Roll the bottle in your hands then open bottle for a vibrant, spicy cinnamon aroma. This is an Essential Oil you don't want to live without.  I have never met a person that did not rave about the smell of Thieves, especially this time of year!
Young Living is all about vibrant health, wellness, and self-care! Take charge of your lifestyle and wellness choices. Essential oils can impact every area of our life but it starts first in the only environment we can control  ~~ our HOMES.
**Essential oils can help alleviate symptoms and support the healing process, but do check in with a doctor if symptoms are persistent, or if you are or caring for someone who is vulnerable to complications.
Don't forget to check out these aromatic combinations for the Fall season below.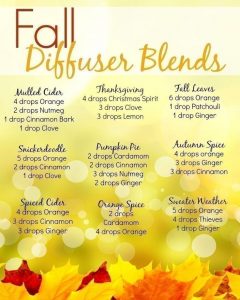 To learn more, contact Donna Wagner at Email | Instagram | Facebook